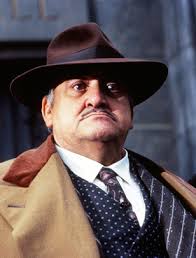 Vinnie Ricorso is a minor antagonist of the 1989 film Batman. He is a crime lord who is a close friend of Carl Grissom.
He was portrayed by the late John Dair.
Biography
When Grissom's right-hand man Jack Napier (now going by the name Joker) gathered all of Carl Grissom's associates together for a meeting, Vinnie Ricorso was considered to be someone who wants to think for himself and question the Joker's decisions. Always the first to become suspicious, Ricorso demanded to know why Grissom wasn't around which caused Rotelli to question the Joker. Joker murdered Rotelli with a joy buzzer and ordered his personal army to make all the crime lords leave.
Later, Ricorso went to Gotham City Hall to file an affidavit so he can take all of Grissom's businesses. To answer the media's questions, Ricorso explained that Grissom asked him, as a personal favor, to take over his business operations until he returned. Ricorso's lawyer confirmed this by explaining that Grissom's signature was perfectly legitimate. The Joker and his minions then arrived and caused a massive shootout to occur after Joker pulled out a ridiculously large quill pen and stabbed Ricorso in the throat, killing him.
Trivia
He was killed on the anniversary of Thomas and Martha Wayne's murder.

Villains
Villains
Movies
Beetlejuice: Beetlejuice
Batman (1989): Joker | Bob Hawkins | Alicia Hunt | Carl Grissom | Max Eckhardt | Vinnie Ricorso | Joe Chill |
Edward Scissorhands: Jim
Batman Returns: Penguin | Red Triangle Circus Gang (Organ Grinder, Poodle Lady, Tattooed Strongman, Stungun Clown, Thin Clown, Fat Clown, Sword Swallower & Knifethrower Dame) | Max Shreck | Catwoman | Charles "Chip" Shreck
The Nightmare Before Christmas: Oogie Boogie | Lock, Shock and Barrel
Batman Forever: Riddler | Two-Face | Sugar | Spice | NygmaTech (Frogmen) | Neon Gang (Neon Gang Leader) | Salvatore Maroni
James and the Giant Peach: Aunt Sponge | Aunt Spiker | Rhino | Skeleton Pirates | Shark
Mars Attacks!: Martian Leader | Martians (Martian Ambassador & Martian Girl)
Sleepy Hollow (1999): Lady Van Tassel | Headless Horseman | Reverend Steenwyck
Planet of the Apes (2001) General Thade | Attar
Charlie and the Chocolate Factory: Arthur Slugworth
Corpse Bride: Barkis Bittern | Maudeline Everglot
Sweeney Todd: The Demon Barber of Fleet Street: Sweeney Todd | Mrs. Lovett | Judge Turpin | Beadle Bamford | Jonas Fogg | Adolfo Pirelli
9: Fabrication Machine | 1 | 8 | Machines (Cat Beast, Winged Beast, Seamstress, Steel Behemoths, Seeker Drones & Spiderbots) | Chancellor Fredinand | The Chancellor's Party
Alice in Wonderland (2010): Red Queen | Knave of Hearts | Card Soldiers | The Jabberwock | Jubjub Bird | Hamish Ascot
Dark Shadows: Angelique Bouchard | Julia Hoffman
Abraham Lincoln: Vampire Hunter: Adam
Frankenweenie: Mr. Whiskers | Shelley | Were-Rat | Sea Monkeys | Mr. Burgermeister
Big Eyes: Walter Keane
Miss Peregrine's Homes for Peculiar Children: Mr. Barron
Dumbo (2019): V.A. Vandevere | Neils Skellig | Pink Elephants | Rufus Sorghum
Community content is available under
CC-BY-SA
unless otherwise noted.