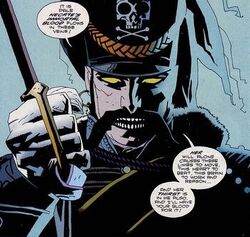 Vladimir Guirescu is a villain in the Hellboy comic series.
History
Vladimir died as a child In 1492 Giurescu's father,MIhail bought the dried out body of Hecate from Greek fishermenand was later brought back to life as a vampire and by 1525 he had become the head of his family empire after his father turned 100. His father Mihail had become a vampire by Hecate.Vladimir appears in the Wake the Devil and Darkness Calls enountering Hellboy a few times and being revived each time. In Wake the Devil  he was revived by Ilia and later after reviving decides to make her his new bride.
Powers and ablitlies
Being a vampire VLadimir possess Superhuman Strength,Speed,and Stamina plus durability and the ability to ressurect and turn people into vampires.
Community content is available under
CC-BY-SA
unless otherwise noted.