Boba Fett Returns - The Loop
Play Sound
Jafar says: Read my lips and come to grips with the reality!


This article is a stub and is in need of expansion. You can help Villains Wiki by expanding it.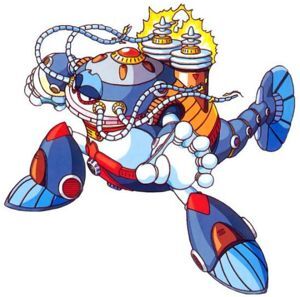 Volt Catfish (Electro Namazuros in Japanese version) is one of the eight Maverick bosses from Mega Man X3.
Volt Catfish is an electrical Reploid designed to provide power during energy shortages, having been built with a advanced power generator into his body. During a visit to Doppler Town he ends infected by the Sigma Virus and turns into a Maverick, wreaking havoc at a power plant and siphoning all energy to Dr. Doppler until being stopped by X.
Volt Catfish attacks by jumping around the arena, shooting sparks that run on the ground and walls and shooting his Triad Thunder, which sticks to the walls before returning to him. When low on health he will stand at the center of the arena and draws a lot of energy, shooting sparks everywhere. His weakness is the Tornado Fang.