Doctor Strange in The Multiverse o Madness - The Loop
Play Sound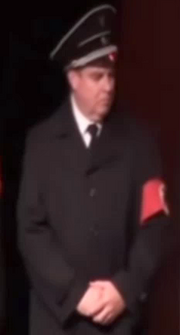 | | | |
| --- | --- | --- |
| " | Friday? This is Wednesday, that's only a matter of two days. It might be possible that you report immediately to Bremerhaven by Monday. Is there a telephone I could use? | " |
| | ~ Von Schreiber allowing Von Trapp to attend the music festival with his family. | |
Von Schreiber is a supporting antagonist of the 1959 musical The Sound of Music, and its 1965 film adaptation of the same name. He is a German Navy Admiral who is in league with Hans Zeller and intends to bring Captain Georg von Trapp into the service of Nazi Germany.
Role
Following the Anschuluss (the annexation of Austria into Nazi Germany in 1938) several days after Captain Georg Von Trapp and Maria Rainer were married, Zeller was appointed as the new Gauleiter of Austria by Adolf Hitler. When Rolf Gruber delivers a message to Von Trapp, it details an offer for him to accept a commission in the Kriegsmarine (the Nazi Navy) at the German Naval base in Bremerhaven. To ensure of this, Zeller brought in Von Schreiber to personally escort the Captain to Bremerhaven to accept the commission.
After bring introduced to the Captain by the latter's butler Franz, Von Schreiber admits that he's aware of the Captain's valiant war record from World War I and pointed this out as the main reason why he's giving him the commission. However, the Captain is secretly unwilling to join the Nazis, so he and Maria cleverly stated that they're participating in the Salzburg Music Festival (since their children are among the contestants); even presenting out the program to prove their point.
Despite his no-nonsense nature, Von Schreiber agrees to wait by stating that he will deliver the Captain to Bremerhaven on next Monday (since the festival is on Friday), much to Zeller's protests. Von Schreiber then uses the Von Trapps' phone to call in Hitler about the change of schedule before leaving the estate. However, the Von Trapp family escaped after finishing their performance in the festival, much to Von Schreiber's shock. As such, Zeller orders all of his officers to track down the Von Trapp family, but their efforts proved to be futile as the family have escaped into the mountains.
It is unknown what happened to Von Schreiber following the Von Trapp family's escape to Switzerland.
Trivia
A key difference between the movie and the play:

In the play, Von Schreiber only appeared when Von Trapp and Maria conspired to escape from Austria with their family.
In the movie, Von Schreiber is only mentioned by Zeller, who intends to take on the Admiral's role of escorting the Captain to Bremerhaven for good measures.
Villains