We're Getting Mutants in the MCU - The Loop
Play Sound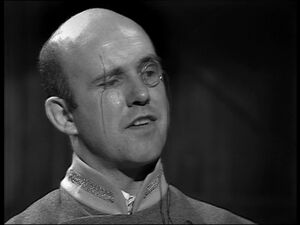 Von Weich is a minor antagonist in the Doctor Who story "The War Games".
He was portrayed by David Garfield.
Biography
Von Weich was one of the Aliens who controlled the War Games, an attempt to select an army of brainwashed human soldiers by having them fight simulations of the wars they had been abducted from. As part of the subterfuge, Von Weich took the identity of both a German captain in World War I and a Confederate officer during the American Civil War, having mental control over his human subordinates.
He first encountered the Doctor, Jamie and Zoe when they were captured by the German soldiers under his control. The trio convinced his deputy, Lieutenant Lucke, that they were time travellers, but Von Weich was able to use his mental hold over Lucke to convince him they were English spies who should be held prisoner. He contacted his superior, the War Chief, but the travellers managed to escape in his absence. He later met with General Smythe, who had taken the identity of a British officer, to discuss their next simulated battle.
Returning to the American Civil War zone, Von Weich found his subordinates there had encountered Jamie and Lady Jennifer, an ambulance driver from the First World War, after they had been captured by Union soldiers. Von Weich again convinced his troops that they were spies, but the pair were freed first by Harper, a soldier who had broken his conditioning, and then a full attack by a resistance group led by Sergeant Russell, who took Von Weich prisoner.
Von Weich managed to break free long enough to send an SOS signal. A group of Alien guards arrived in a SIDRAT machine but were overcome after a brief battle. Jamie, Russell and most of the troops used the SIDRAT to travel to the Aliens' control area, leaving Von Weich to be guarded by Private Moor, a 19th century British soldier. Von Weich managed to reassert the Aliens' control over Moor, convincing him he was his commanding officer, but they were interrupted by the return of Russell and a fight broke out. Von Weich got hold of a gun and prepared to shoot Russell, but this shocked Moor out of his conditioning and he killed Von Weich.
Trivia
The novel The Eight Doctors states that Von Weich used the identity Captain Beauregard Lee for his Confederate officer persona.