Wiki Targeted (Entertainment)
Play Sound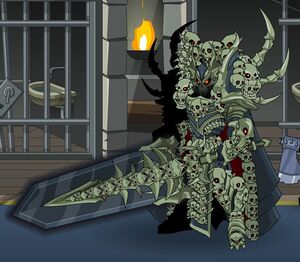 | | | |
| --- | --- | --- |
| " | YES... ONCE I HAVE MADE YOU MY UNDEAD SLAVE. VOIDUMINANCE NECROT-MORPH! | " |
| | ~ Vordred | |
Vordred is one of the most powerful undead beings that Lore has ever seen in the online role-playing game AdventureQuest. He is immune to light-based magic and has the ability to turn people undead using his dreaded Voiduminance Necrot-Morph spell, and has become known as the Paladin Slayer. He was created by Sally and Noxus with one simple goal: to become the Champion of the Elemental Plane of Darkness. But in order to do this, only one obstacle stands in his way: Artix, perhaps the most powerful paladin in all of Lore.
As it turns out, Vordred seeks to kill Artix because Artix is the original Champion of Darkness, and by slaying him, Vordred hopes to gain all his powers. During the final showdown, it is revealed that while Vordred's armor of skulls is indeed immune to light-based magic, his main body is not, and when Artix blasts away the armor of skulls using the spirit orbs of all of Vordred's victims, defeating him becomes possible by pinning down his Shadow form using Artix's own Shadow so that he can no longer regenerate. When Vordred finally falls, Drakath gives his skull to Sally, who vows to rebuild him and make him more powerful than he was before — and in the second part of Doomwood II, she's done just that, using Drakath's Chaos power in order to resurrect him! Unfortunately, before he can finish off Artix, the Hero and Gravelyn, Gravelyn makes a final wish that brings her father, Sepulchure, back to unlife (or so she thinks) and he wastes no time in utterly annihilating the chaotic undead abomination. After the finale of Doomwood II, after Gravelyn destroys her father's remains and rallies every one of the Doomwood villains under her banner, she announces her plans to have Vordred rebuilt as one of her most powerful warriors.
Trivia
So far Vordred is completely invincible. When the next part of the DoomWood saga is released, the players are supposed to do some snooping to learn Vordred's weakness. While many players try attacking him, each hit you produce will do 0 damage.
Voiduminance Necrot-Morph transforms living people into undead. It did not work on Artix in the finale because he (Artix) is supposedly the Champion of Darkness.
The spelling of his name has been fixed to be Vordred not Vordrid.
Anyone who's played DragonFable or participated in AQWorld's Birthday Live, Musical Event Weekend (10/10/10) should be able to recognize the ShadowReaper Of Doom. In fact, it's also the same weapon wielded by Undead Artix.
During the Doomwood finale, whoever finishes him off depends on who you chose for Cysero and Beleen to go find.
If you choose to backstab and betray Artix, he rewards you by turning you undead, and finally becomes the Champion of Darkness and unleashes an undead apocalypse upon the entire world, granting access to the Bad Ending Shop.
His Sword can be obtained only by buying The Doomwood Expansion Pack.
Interestingly enough the hilt of The Sword has a blue thing while the NPC and Monster version lacks the blue thing.
He has been revived by

Sally

with the help of Chaos.

Villains
AdventureQuest/WarpForce
Agent Smith | Carnax | Chairman Platinum | Dark Madder | Diviara | Drakath the Darkness Dragon | Drakonnan | Drakonnas | Epheel | Erebus | Exodus | Jack Frost | Kabroz | Khandie Khain | Makkisar | Mysterious Stranger | Nightbane | Nightmare Queen | Ryuusei Cartwright | The'Galin | The Zardmaster | Zorbak
DragonFable
Akriloth | Baron Au'Mydas Bayconn | Baron Jaysun Valtrith | Captain Blackberry | Captain Davey | Chairman Platinum | Doppelganger | Dragonmaster Frostscythe | Drakath Slugwrath | Drakonnan | Dr. Voltabolt | En and Tropy | Envy | Exodus | Fluffy the Dracolich | Gary the Ice Elf | Gorgok | Greed | Kathool Atchoo | King Slugwrath | King Splurt | Klaatu | Leeta | Lord Frydaye XIII | Lust | Mysterious Stranger of the Shadowscythe | Necromancer | Nicto | Noxus | Okuchi no Okami | Queen Aisha | Queen Pallor | Roirr | Sally | Sek-Duat | Sepulchure | Sinnocence | Sphinxter | Super Mega Ultra Darkness Dracolich | Trey Surehunter | Vaal | Vayle | Verata | Wargoth | Xan | Zorbak
MechQuest
Chairman Platinum | Commander Qor | Drakath Slugwrath | Dr. Billy Boltavolt | Kathool Atchoo | Kingadent Slugwrath | Kratos | Lord Valoth | Mr. Z | Shadow Claws | The Unknown Master
AdventureQuest Worlds
Abomineator | Adimonde | Adventus | Aeacus | Akriloth | Ancient DoomKnight | Antiphuus | Apephryx | Arthur and Elise | Avada | Au'er | Azal the Infernal | Azkorath | Baron | Baron Au'Mydas Bayconn | Baron Jaysun Valtrith | Baron Luca | Baron Sunday | The Beast | The Beastmaker of the Neverworld | Beiza | Blazebeard | Blightbringer | Braddok BoneBreaker | Bride of Shrade | Brutalcorn | Brutus | CEO Totengeld | Caelgar | Calico Cobby | Captain Kraylox | Captain Laguna | Captain Scalebeard | Captain Von Poach | Carnax | Chairman Platinum | Chamat | Chaos Beast Attempt | Chaos Dragon | Chaos Harpy | Chaos Lord Alteon | Chaos Lord Hero | Chaos Manticore | Chaos Queen Beleen | Chaos Sphinx | Charolus | Chronocide | Cinderclaw the Ravenous | Cockatrice | The Collector | Commander Goregrim | Commodore Core | Count Maxius | Dage the Evil | Dage's Undead Horsemen | Dakka the Dire Dragon | Dark ArchMage Brentan | Dark Boitata | Dark Sepulchure | David Maxwell | Dead Morice | Decair | Desoloth | Desterrat Moya | Dethrix Drakath | Dilligaf | Dilligas | Dirtlicker | Discordia | Doppelganger | Dracowerepyre | Dragonmaster Frostscythe | Drakath the Champion of Chaos | Drayko Lancer | Dreamweaver | Dr. De'Sawed | Dr. Voltabolt | Emily | Enferr Os | Envy | Edvard | Eremon | Escherion | Eternal Dragon of Time | Exos | Extriki the Destroyer | FEAR | Fear Feeder | Feegrix | Filthy McGee | Final | Flester the Silver | Flintfang | Fluffy the Dracolich | Foul Fowl | Frigid Drakonnan | Frostfang | Gaiazor | Garvodeus | Gedoz | General Cynari | General Phyrz | General Tibias | Gladius | Glutus | Goredon Rampage | Goregold | Gorgorath | Gramiel | Grand Inquisitor | Graveclaw the Defiler | Gravelyn | Gressil | Grimlord | Grimskull | Gruaige Baas | Helzekiel | Howard | Howard's Grief | Incubus | InnDestroyer Yulgar | Issik the Vile | Ivoliss | Jaaku | Jing | Jir'abin | Junior | Kalron the Cryptborg | Karok the Fallen | Kathool Atchoo | Kezeroth | Khasaanda | Kimberly Freeman | King Alteon the Imbalanced | Kitsune | Kitty Boo Boo | Klashex | Klunk | Kolyaban the Reshaper | Krahen | Krampus | Kratos | Krellenos | Lake Hydra | Laken | Lascivia | Ledgermayne | Lord Balax'el | Lord Krom Wrath | Loremaster Anka | The L.O.S.E.R.s | Major Thermas | Malgor | Mallora | Maloth | Malxas | Mana Golem | Marchosias | Maximillian Lionfang | Meghan the Merciless | Mercutio | Minos | Mogdring | Mors Temporis | Mort | Mr. Wubbles | Mr. Socks | Munthor | Mysterious Figure | Mysterious Stranger of the Shadowscythe | Nastasia | Nevanna | Nightbane | Noxus | Nulgath | Nyctox | O-dokuro | Oblivion | One-Armed Bandit | Overseer SN.O.W. | PAL 9001 | Pax | Pettivox | Phedra | Phlegnn | Plank the Table | Pony Gary Yellow | Professor Iadoa | Queen Aisha | Queen of All Monsters | Quetzal | Raask | Rand Ravenson | Rangda | Raoul Silvertree | Rayce | Revontheus | Rhadamanthys | Rock Roc | Rogath | Rotgut the Full | Sally | Salvaza | Santy Claws | Scarletta | Scorn | Sek-Duat | Sekt | Sepulchure | ShadowKnight Gar | Shimazu the Defiler | Shrade | Sir Roderick | Sir Kut | Skew | Sleep Paralysis | Sleezter Bunny | Stalkwalker | Thanatops | Thanatos | THAT | The LunarMancer | Thug Boss | Tibicenas | Travon | Turkonian | Twisted Aria | Tyndarius | Undead Artix | Unseelie Glassbinder | Vaal | Vaden | Valsarian | Vath | Vaxen | Vayle | Vertigo | Vincenzo | Vordred | Vortrix | Wargoth the Frozen | Wilheim Vorkrieg | Wolfwing | X'dir | Xan | Xavier Lionfang | Xeven | Xiang | Xing and Xang | Yurrod the Gold | Zahart | Zeph'gorog | Ziri | Zorba the Bakk | Zorbak
HeroSmash
Chairman Platinum | Charries | Clock Blocker | Dage the Evil | Darcron | Dr. Insecro | Dyintime | General Fluffles | Hottica | King Zong | Lokos | Oblivion | Rocker | Super Death | Twi
Oversoul
Dilligaf | Drakath | Klunk | Nulgath | Revontheus | Taurus
AdventureQuest 3D
Akriloth | Faustbite | Phrozen | Shrade | Sleet | Talyn