Walt Masterson is a jewel thief in the WB TV series Smallville.
He was the secondary antagonist in the Season Three episode "Whisper".
He was portrayed by William MacDonald.
Biography
Walt Masterson had his apprentice Nathan Dean help him with a jewelry store robbery, using his ability to project a supersonic sound to incapacitate the shopkeeper and customers while Walt grabbed everything of value.
Masterson was armed with a pistol and a pair of earplugs to avoid being deafened by Nathan's supersonic sound. As Nathan used his sonic screech, Masterson pulled his gun out just as the glass jewelry cases shattered.
Clark Kent attempted to blast Masterson with his heat vision and managed to disarm him but a piece of costumed jewelry made from meteor rock flies across the room.
One beam hits Masterson's hand and he dropped his gun but another blast hits the meteor rock jewelry and bounces back into Clark's face, blinding him.
The jeweler levels a shotgun at Masterson as Nathan slipped away into the crowd with the other customers. Walt was taken into police custody.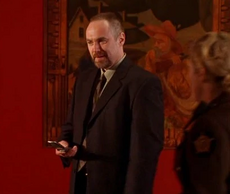 Masterson's case had landed on Judge Abigail's court calendar who was Pete Ross' mother. Masterson had Nathan kidnap Pete to get Judge Ross to dismiss the charges against him.
When Clark regained his sight, he planned to to go to the courthouse and follow Masterson if Judge Ross released him.
At the Lowell County Courthouse, Clark overheard Masterson talking with Nathan who promises that Pete will be a "pile of junk". However, Clark managed to save Pete, defeat Nathan, and Masterson remained in police custody.

Villains
Protagonists