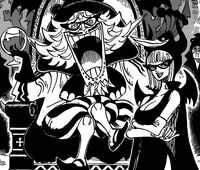 "Tin-Plate" Wapol is the main antagonist of the Drum Island Arc, and the main antagonist of the ninth One Piece movie Episode of Chopper Plus: Bloom in Winter, Miracle Sakura. He is the former monarch of the Drum Kingdom, originally named for the "Drum Peak" mountains which support Wapol's castle. He became a pirate after fleeing from his country when Blackbeard and his crew attacked Drum Island. After his defeat by the Straw Hat Pirates, he became the head of his own toy enterprise and married Kinderella. Two years later, he was given his own kingdom by the World Nobles and now reigns as the king of the Black Drum Kingdom.
Personality
Wapol proved to be a spoiled and corrupt king, who held not even the slightest regard for his people. He was also cowardly and disloyal, fleeing his kingdom without even fighting back when the Blackbeard Pirates attacked, taking with him the doctors and soldiers while leaving his remaining subjects to fend for themselves. His self-centered actions ruined the kingdom's reputation, which caused all the citizens to both fear and hate him.
He is callous towards his people and never appears to care for their safety. Wapol loves to dominate over others with his family's power and wealth, and truly believes that none should dare question his authority.
Trivia
In the alternative community film of the Drum Island arc, Wapol and his non-canon brother Musshuru are both Complete Monsters.
Community content is available under
CC-BY-SA
unless otherwise noted.