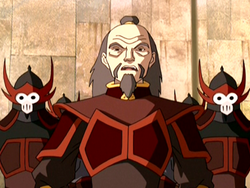 | | | |
| --- | --- | --- |
| " | What kind of guest dishonors his host by interrupting him!? Take him below! One week in solitary will improve his manners. | " |
| | ~ The warden of the prison rig ordering the guards. | |
The
Warden
is the main antagonist of the episode "
Imprisoned
" of
Avatar: The Last Airbender
.
History
After the Fire Nation captured an unnamed Earth Kingdom village, it appointed an unnamed commander to be the warden of the resident prison for Earthbenders. He was a ruthless man, locking people in solitary confinement for weeks for mere rudeness. He is first seen when Katara (after she feigned Earthbending to get into the prison) is arrested. He torments the prisoners until Aang and Sokka appear and start a revolt among the prisoners (using coal as a subsitute for the gorund, as the ship was made of metal). He is eventually thrown into the sea by a prisoner. He claims to be unable to swim before being thrown in, so it can be assumed that he drowned.