Jafar says: Read my lips and come to grips with the reality!


This article is a stub and is in need of expansion. You can help Villains Wiki by expanding it.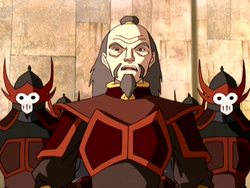 | | | |
| --- | --- | --- |
| " | What kind of guest dishonors his host by interrupting him!? Take him below! One week in solitary will improve his manners. | " |
| | ~ The Offshore Prison Warden ordering his guards to take a disobedient prisoner to the brig. | |
The Offshore Prison Warden is a minor antagonist in Avatar: The Last Airbender. He serves as the main antagonist of the episode "Imprisoned". He is a Fire Nation prison warden who runs an offshore prison rig next to an unnamed Earth Kingdom village, where the villagers are deprived of their ability to earthbend.
He was voiced by George Takei.
History
After the Fire Nation captured an unnamed Earth Kingdom village, it appointed an unnamed commander to be the warden of the resident prison for earthbenders. He was a ruthless man, locking people in solitary confinement for weeks for mere rudeness. He is first seen when Katara (after she feigned earthbending to get into the prison) is arrested. He torments the prisoners until Aang and Sokka appear and start a revolt among the prisoners (using coal as a substitute for the ground, as the ship was made of metal). He is eventually thrown into the sea by a prisoner, despite his warnings that he cannot swim. The warden presumably drowned afterwards.