Obi-Wan Finale - The Loop
Play Sound

✓



Click To Help Dr. Wily!

Dr. Wily has declared that this article is still under construction.
Please don't delete or edit this article yet, it may contrast with the original author's edits.
After I finish this article, the world will be mine! MWAHAHAHAHA!
This article's content is marked as Mature
The page Mature contains mature content that may include coarse language, sexual references, and/or graphic violent images which may be disturbing to some. Mature pages are recommended for those who are 18 years of age and older.


If you are 18 years or older or are comfortable with graphic material, you are free to view this page. Otherwise, you should close this page and view another page.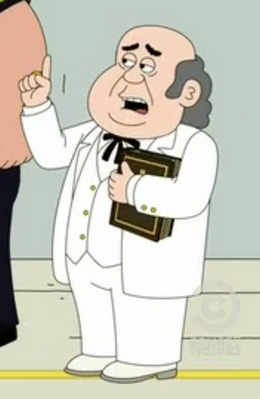 Warden Tiny Smalls is a minor antagonist in Brickleberry, only appearing in the episode "Scared Straight". He is a diminutive priest, who works as the warden of Hazelhurst Prison. He runs a very holy Christian prison and every time somebody makes fun of him for his height, he has them sent to the electric chair.
Biography
In "Scared Straight", Malloy, Denzel Jackson, and Cool Friends Gang got arrested and Warden Tiny Smalls was their warden. When he introduced himself, a prisoner snickered at his name and Smalls immediately sentenced that guy to death from the electric chair. Warden Smalls said that he was a very Christian man and that he was going to run his prison as such. He said that his number one rule was "No sarcasm.". Malloy immediately gave him trouble, making a sarcastic remark just to provoke him and Smalls decided to punish him by smacking Denzel on the head with a bat. Smalls said that as the bible says, "It's more painful to watch your friend suffer, than it is to suffer, yourself.". Malloy continued to insult him again and again with more sarcasm, leading to Denzel getting beaten senseless. Denzel tried to get Malloy back by making a sarcastic comment, himself but this only got him smacked again. Denzel said that Smalls should have hit Malloy because of his bible rule and Smalls said that when he was quoting the bible, he was being sarcastic. Smalls introduced the prisoners to Hazelhurst Prison and stated his name again, leading to a cop laughing at him. Smalls ordered the other cop to take this cop and have him executed.