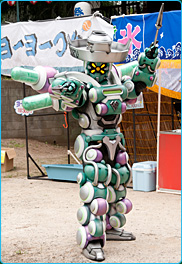 The
Wataameloid
is a Metaloid that
Enter
created with the "entwine" Metavirus to regain some standing with Messiah.
Using the cotton candy sticks in each of his hands, Wataameloid can absorb any Enetron from any machine, even from the Ichigan Busters' shots.
However, Blue Buster uses his Sougan Blade to absorb the blast from Yellow Buster's Ichigan Buster to successfully land a death blow on Wataameloid.
Notes
Identification Number: M-72
Install Metavirus: KARAMETORU
Production Motif: Cotton candy machine
Height: 204 cm. (6 feet, 8.31 inches)
Weight: 267 kg. (534 lbs.)
Community content is available under
CC-BY-SA
unless otherwise noted.