House of the Dragon Trailer - The Loop
Play Sound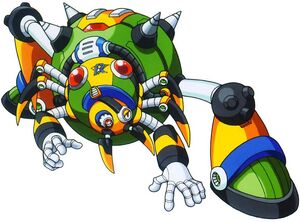 Web Spider is one of the eight Maverick bosses from Mega Man X4.
Web Spider was a member of the Maverick Hunter's 0th Special Unit under Zero's command, but he defected and joined Repliforce, where he led a guerrilla unit. When the Repliforce starts their coup for independence, Spider is tasked to keep guard over a cannon deep within a jungle occupied by the group. He is eventually confronted by X and zero and fights them, but ends defeated.
Web Spider's strategy consists of hiding in the top of the screen, descending only to shot a semi-homing electric web. When on half health, he will create a large web and walk on it, eventually releasing small walking drones and shooting the usual electric webs. His weakness is the Twin Slasher, which can cut his web, making him crash into the ground.