We're Getting Mutants in the MCU - The Loop
Play Sound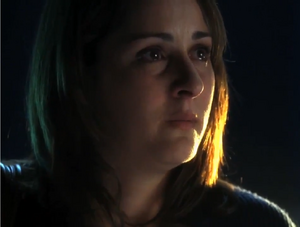 Wendy Senteno is the antagonist from "Dead Ringer", episode 4.20 of CSI.
She was portrayed by Tina Holmes.
History
Wendy Senteno is the wife of police officer Manny Senteno, who was found shot to death along with fellow police officer Patricia Fielding. She spoke fondly of her husband while his and Patricia's bodies were shown to her, even after revealing that their marriage was not perfect due to Manny's constant affairs. In regards to Manny's philandering, Wendy claimed not to care and also stated that she did not want Manny to tell her. In actuality, Wendy became infuriated after learning about Manny's latest fling, which was with a woman named Lydia Lopez. Lydia's husband, Archie, found out about his wife's cheating, and he made six calls to Wendy, with the sixth one finally being successful.
After being told about Manny's fling, Wendy drove to the hotel and caught Manny with Patricia, leading her to believe that Patricia was the other woman. Manny's attempt to explain was abruptly cut off by Wendy, who picked up Patricia's gun and shot her to death, and later shot and killed Manny as well. After committing the murders, the evil Wendy removed her prints from the gun with her napkin, and she later placed the gun in Patricia's hand, making it look like she committed a murder-suicide. Wendy's kindness regarding Manny was a cover for her personality as a villainous scorned wife, but she was revealed as the double murderess when Archie's phone was found and Wendy's number was shown listed six times.
Sara Sidle interrogated Wendy, who claimed that she was in Laughlin with her son, but it was uncovered that she was spotted speeding towards the direction of the hotel by highway patrol. Patricia's blood being in Wendy's purse also gave her away, and at that moment, the villainess lashed out at Manny's affair with Patricia, only for Sara to inform Wendy that Manny's affair was with Lydia instead of Patricia. Wendy was eventually arrested (off-screen) for both murders.