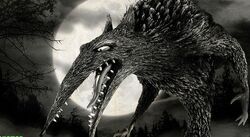 The Were-Rat is a minor antagonist in the Disney/Tim Burton's 2012 stop-motion animated film Frankenweenie. His is a dead rat resurrected by Edgar "E" Gore.
His vocal sound effects were provided by Jeff Bennett.
Biography
Edgar found the rat in a garbage trash and used him as animal to resurrect. The young boy made his experience in Mr. Rzykruski's class with the science material and lightning. However, the experience went wrong and the rat became a man size monster which looks like a werewolf. Scared, Edgar leaves the classroom and alerts the gym teacher who was always in the school. She slowly walks to the classroom and open the door and screams by seeing the mutated rat. With Shelley and the Sea Creatures, it will terrorize the people. First, it follows the teacher to the place of dutch day festival and then chase Edgar. Right after, the were-rat goes after Elsa and her dog. That's when Sparky intervenes to defend them. The monster defies him and bites him to a bolt on the side of Sparky's neck. He then takes an electric shock so powerful that he returns to its original state: an old rat dead and decomposing.

Villains
Villains
Movies
Beetlejuice: Beetlejuice
Batman (1989): Joker | Bob Hawkins | Alicia Hunt | Carl Grissom | Max Eckhardt | Vinnie Ricorso | Joe Chill |
Edward Scissorhands: Jim
Batman Returns: Penguin | Red Triangle Circus Gang (Organ Grinder, Poodle Lady, Tattooed Strongman, Stungun Clown, Thin Clown, Fat Clown, Sword Swallower & Knifethrower Dame) | Max Shreck | Catwoman | Charles "Chip" Shreck
The Nightmare Before Christmas: Oogie Boogie | Lock, Shock and Barrel
Batman Forever: Riddler | Two-Face | Sugar | Spice | NygmaTech (Frogmen) | Neon Gang (Neon Gang Leader) | Salvatore Maroni
James and the Giant Peach: Aunt Sponge | Aunt Spiker | Rhino | Skeleton Pirates | Shark
Batman & Robin: Poison Ivy | Mr. Freeze | Bane | Snowy Cones Thugs | Golums | Jason Woodrue
Mars Attacks!: Martian Leader | Martians (Martian Ambassador & Martian Girl)
Sleepy Hollow (1999): Lady Van Tassel | Headless Horseman | Reverend Steenwyck
Planet of the Apes (2001) General Thade | Attar | Limbo
Charlie and the Chocolate Factory: Arthur Slugworth
Corpse Bride: Barkis Bittern | Maudeline Everglot
Sweeney Todd: The Demon Barber of Fleet Street: Sweeney Todd | Mrs. Lovett | Judge Turpin | Beadle Bamford | Jonas Fogg | Adolfo Pirelli
9: Fabrication Machine | 1 | 8 | Machines (Cat Beast, Winged Beast, Seamstress, Steel Behemoths, Seeker Drones & Spiderbots) | Chancellor Fredinand | The Chancellor's Party
Alice in Wonderland (2010): Red Queen | Knave of Hearts | Card Soldiers | The Jabberwock | Jubjub Bird | Hamish Ascot
Dark Shadows: Angelique Bouchard | Julia Hoffman
Abraham Lincoln: Vampire Hunter: Adam
Frankenweenie: Mr. Whiskers | Shelley | Were-Rat | Sea Monkeys | Mr. Burgermeister
Big Eyes: Walter Keane
Miss Peregrine's Home for Peculiar Children: Mr. Barron | Malthus
Dumbo (2019): V.A. Vandevere | Neils Skellig | Pink Elephants | Rufus Sorghum
Community content is available under
CC-BY-SA
unless otherwise noted.