She-Hulk Trailer Dropped - The Loop
Play Sound
Jafar says: Read my lips and come to grips with the reality!


This article is a stub and is in need of expansion. You can help Villains Wiki by expanding it.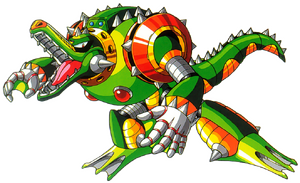 Wheel Gator (Wheel Alligates in Japan) is one of the eight Maverick bosses from Mega Man X2.
Wheel Gator was a Maverick Hunter under the 6th Naval Unit, but due to his ferocious personality, he often got into conflicts with other members of the unit, especially Bubble Crab. After injuring a fellow hunter during a mission, he was labeled a Maverick and hunted as a traitor, eventually joining Sigma's rebellion to satisfy his destructive desires. He is given control of a massive dinosaur tank, using it stomp over a city until he's stopped by X.
Wheel Gator is an annoying boss to fight since he stays most of the time hiding under the water in the room. He will use his Spin Wheels and attempt to chew on the player. When resurfaced, he will continue using the Spin Wheels and rush at the player while spinning. His weakness is the Strike Chain, but it causes him to immediately dive again.