The Sandman Will Keep You Awake - The Loop
Play Sound
William Taylor was a high school student at Smallville High and his mother was a literature teacher in the WB TV series Smallville.
He served as the secondary antagonist in the Season 3 episode "Truth".
He was portrayed by Andrew Francis.
Biography
When Chloe Sullivan accidentally inhaled a mysterious truth gas, she discovered it acted as a truth serum to anyone who comes in contact with her and decides to take advantage of her new power.
She first used it to interview Ms. Taylor who first said she was too busy but when Chloe pressed, a green mist expels as she spoke to Mrs. Taylor who admits that she can't do it because she watched TV instead of preparing for class, so she has to make up a pop quiz.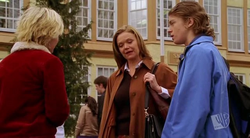 A few days later, Chloe approaches Mrs. Taylor as she is arriving at the school with her son Will. She tried to interview her again and Mrs. Taylor said that the only downside of teaching is hiding her past. Marianne's original name was Marianne Lewis.
She changed her name in 1972 after she played a minor part in a radical group that blew up a bank in Seattle and killed a guard while trying to make a political statement and Will was horrified.
Angered, he leads his mom away and warns Chloe to stay away from them. Chloe went ahead and published the story putting it on the cover of the Torch, upsetting the whole school.
Will approached Chloe at the Talon who was angry at her for ruining his and his mother's life. As a result of the story, Mrs. Taylor was arrested.
Later Chloe was driving to the Kent Farm when her headaches had worsened and she was close to passing out due to the truth serum. Will was driving a large blue truck and tried to run her off the road and she crashes into the side of Coughlin Bridge.
While driving, Chloe was on the phone with Clark who overheard William and the commotion over the phone and super speeds to the scene. Chloe passed out just after telling Clark where she was and as Will tried to ram her car off the bridge.
Clark grabbed Will's truck and he hit the dashboard, knocking himself out before he could kill Chloe. William was sent to Belle Reve for rehabilitation.

Villains
Protagonists