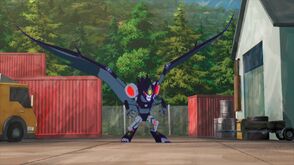 Wingcode is an Energon Vampire like Nightstrike, and a bat-like Decepticon in 2015 Transformers: Robots in Disguise.
History
During the Great War, Wingcode was an airborne spy, however after she stole a nanotech virus and absorbed it into her system, she was arrested and placed in a quarantine stasis pod aboard the Alchemor. When the other Alchemor's prisoners had been returned to prison to Cybertron, Wingcode was was the only prisoner left on Earth. And like Nightstrike, she needs Energon to survive. And when she found Energon from the Scrapyard, she infected the virus with Bee Team. And besides, she stole some of their Energon cubes. When the other members of Bee Team had received the virus, Grimlock and Bulkhead tried to capture her and heal others with her. They lured her out with Energon cubes, and in the cave they prevented her from escaping and knocked her out. And on the Scrapyard they improved their friends with her, and then she was put in the Stasis Pod.
Relationships
Gallery
Community content is available under
CC-BY-SA
unless otherwise noted.