Jurassic World: Dominion Dominates Fandom Wikis - The Loop
Play Sound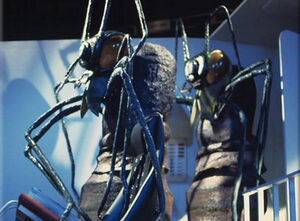 The Wirrn are the main antagonists of the Doctor Who story "The Ark in Space".
This was their only appearance on screen (aside from a cameo as a corpse in "The Stones of Blood"), but they have reappeared in other media.
History
A group of giant insects resembling Earth wasps, the Wirrn are capable of surviving in space but need an atmosphere in order to breed. They lay their eggs inside bodies, allowing the larva to eat their way out, before entering a pupal form in order to reach adulthood. They are also capable of infecting humans so they mutate into adult Wirrn.
"The Ark in Space" reveals a Wirrn Queen infiltrated Nerva Beacon, where thousands of humans lay in suspended animation waiting to repopulate Earth after a cataclysm, and lay its eggs in Dune, one of the sleeping technicians, before dying of wounds inflicted by a security system. The emerging Wirrn larvae consumed Dune, also gaining his knowledge, and retreated to the station's solar stacks to absorb energy. They also infected the ark's commander, Noah, transforming him into an adult Wirrn to guard them during the papal stage, who became the swarm leader.
The Doctor joined up with the few humans who had been revived in order to protect the sleeping humans from being consumed by the Wirrn, laying an electric field around the cryogenics chamber. When the Wirrn attacked the ark's transport ship, the Doctor arranged to have it jettisoned into space with the entire swarm aboard. Noah, who had maintained his own personality despite his body being transformed, then caused the ship to explode, killing the Wirrn.
The Eighth Doctor novel Placebo Effect acts as a prequel, detailing an attempt by the Wirrn to infiltrate human space centuries earlier by secretly infecting a number of humans. After being exposed, they were pursued out of human space by pioneers, who destroyed their breeding grounds and forced them to become nomadic.
The Doctorless BBV audio play "Race Memory" sees the Wirrn attacking Earth after it has been repopulated, with the Big Finish Sixth Doctor audio play "Wirrn Isle" featuring a similar scenario. The Eighth Doctor audio "Wirrn Dawn" features a later war between humans and Wirrn.