The Sandman Will Keep You Awake - The Loop
Play Sound
This article's content is marked as Mature
The page Mature contains mature content that may include coarse language, sexual references, and/or graphic violent images which may be disturbing to some. Mature pages are recommended for those who are 18 years of age and older.


If you are 18 years or older or are comfortable with graphic material, you are free to view this page. Otherwise, you should close this page and view another page.
Lawrence "Larry" Moore, aka the Woodsman, is the posthumous overarching antagonist of "Signature". episode 9.12 of Law & Order: SVU. He is a serial killer who kidnaps, rapes, tortures, and murders young women. While his crimes occur offscreen, they are what drive the plot of the episode.
Biography
Larry Moore was born in New York City, approximately 40 years before "Signature". From an early age, he displayed psychopathic and sadistic tendencies, though his parents were unaware of this. He was also known to have spent a lot of time with his aunt Helen, visiting her during summers to help with her gardens and clean Central Park of litter. They would also spend time at the docks to see the ships leave. In truth, Moore enjoyed the sounds the ships made, planning to one day use them to hide the screams of his victims as he tortured them.
During one summer visit to his aunt, while cleaning trash in Central Park, Moore sexually assaulted a few of the girls he was working with. He was sent to a juvenile facility for a few years, but his record was expunged after he was released. After his release, his parents and aunt believed him when he said that the girls were lying about assaulting them. Sometime after Larry's parents' passing, however, Helen became aware of her nephew's true nature and what he was capable of, and it is implied that he sexually assaulted her.
In his twenties, Moore became a maintenance Park Ranger for Central Park. He would use his uniform to dupe young women and then kidnap them. He then bring them to a warehouse he purchased at a New Jersey port, where he would rape and torture them until finally killing them. He would then dump their bodies in remote areas of Central Park, with no one suspecting him due to his status as a Park Ranger. By the time of "Signature", Moore had killed at least twenty-two women. Eventually, the FBI became aware of a serial killer operating in the Central Park area, dubbing him the "Woodsman".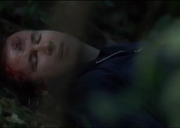 The FBI assigned Dr. Karl Tilman to the Woodsman case to profile and capture him, and over the next few years Tilman became obsessed with the case. The killer continued to elude him, however, and as the body count grew Tilman became increasingly depressed, until he finally died by suicide. Tillman's protege and surrogate daughter, FBI Special Agent Lauren Cooper, in turn became obsessed avenging her mentor by finding and killing the Woodsman.
After picking up from where Tilman left off, Cooper investigates until, finally, she deduces that Moore is the killer. She then stalks him, hoping to find and rescue his latest victim.
Moore, meanwhile, kidnaps a woman and holds her prisoner, torturing her by keeping her locked up in extreme cold, to the point that she contracts hypothermia. His bloodlust not yet satisfied, Moore leaves his prisoner to die while he goes out and kills his 23rd victim, Kate Barrow. Cooper approaches Moore as he is dumping the body, and holds him at gunpoint. Cooper demands to know where Moore is holding the woman he kidnapped. When Moore refuses to tell her, an enraged Cooper shoots Moore in the head, killing him. In order to cover her tracks and find the living victim, Cooper stages the scene, putting Moore's body next to Kate Barrow's. This made it look like Moore was an innocent jogger who was killed by the Woodsman when he accidentally discovered him dumping his latest victim.
Personality
Moore is a sadistic psychopath. He has no empathy or remorse, is skilled at lying and manipulation, and takes great pleasure in hurting and killing others. It is also implied that Moore had planned on becoming a serial killer ever since he was a teenager, as he alluded that the reason he liked to watch ships leave the docks because of the noise they made which would be loud enough to cover the screams of his future victims.
Moore subjected his victims to unspeakable acts of physical and sexual torture. Even when he was not in the warehouse where he kept his victims, he would keep a television playing recorded footage and audio of the previous women he had killed as a way of inflicting further psychological agony to his other confined captive. Moore's crimes are so horrendous that even professional investigators, like SVU Detectives Olivia Benson and Chester Lake, who had dealt with serial killers before, are horrified upon finding his torture chamber.
Trivia
While many real-life serial killers were victims of abuse and neglect as children, Moore had no such tragic background to explain his psychopathy and hatred of women.
Despite only being the antagonist for one episode and not appearing in person, only as a corpse, The Woodsman is arguably one of the most vile, depraved criminals to have appeared throughout the Law and Order franchise, rivaling better-known antagonists William Lewis and Nicole Wallace in terms of psychopathy, sadism, and body count.
External links