Doctor Strange in The Multiverse o Madness - The Loop
Play Sound
This article's content is marked as Mature
The page Mature contains mature content that may include coarse language, sexual references, and/or graphic violent images which may be disturbing to some. Mature pages are recommended for those who are 18 years of age and older.


If you are 18 years or older or are comfortable with graphic material, you are free to view this page. Otherwise, you should close this page and view another page.
| | | |
| --- | --- | --- |
| " | I, Wu Tomoki, do not fail. | " |
| | ~ Wu Tomoki's most famous quote. | |
| | | |
| --- | --- | --- |
| " | I know more than anyone about matters of going from the realm of life to death... but deep knowledge ought to be utilized for bringing about good fortune. You will not find good fortune. Far greater in number are enemies, are evil. If you do find something, it won't be good fortune. | " |
| | ~ Wu Tomoki | |
Wu Tomoki, also known as Doctor Wu, is a minor antagonist in JoJo's Bizarre Adventure: JoJolion. He is a doctor/surgeon working at TG University Hospital, as well as a Rock Human working for the Locacaca Organization. He wields the Stand known as Doctor Wu.
Biography
Past
Before the events of JoJo's Bizarre Adventure: JoJolion, Wu Tomoki naturally was successful in his endeavors of life, passing his exams for both school and to become a doctor, as well as getting a driver's license, on his first try. Later on, he secured a job at TG University Hospital as a doctor and surgeon, working for the Locacaca Organization as he does so. Wu later becomes Mitsuba Higashikata's doctors following her ailments.
JoJo's Bizarre Adventure: JoJolion
Wu Tomoki is first seen studying Mitsuba Higashikata's ear, revealing to her that it's made of rock and thus causing her inability to hear with it. Although originally fine with leaving her been, Mitsuba lamenting over her condition causes him to chase course to offer his services to cure her, which she accepts. That said, his medical mistreatment is the true cause of her condition, and his "treatment" really turn more and more of the poor woman to stone.
Later on, Yasuho Hirose studies security camera footage to eventually have a hunch that Wu is truly a minion of Locacaca Organization, suspecting he is partially responsible for the death of Poor Tom. Investigating this and his strange absence, she only has time to find Mitsuba's deconstructed wheelchair in his desk before she is attacked by Doctor Wu's effects. Yasuho is knocked out by this, and dragged into Wu's office by a possessed Mitsuba.
After she reawakens and teams up with Mitsuba, Wu exists the latter's body to reveal himself, and chases after the two as they escape. This chase also causes Mistuba to awaken her Awaking III Leaves, after realizing her unborn child's life was seemingly exchanged for her healed legs. Although temporarily pinned to the celling due to Awaking III Leaves, Wu later catches up to the heroes hiding inside an elevator.
Insuring his treatment's overall benefits and going on how he and his race are the true heroes in the situation, Wu afterward tries to take control of Mistuba once more, only to be stopped by Awaking III Leaves yet again. Further trapping Wu with medical tape, his hostility is only met with being knocked down further by the two woman. Mitsuba then wraps up Wu's head, and despite his pleading, tosses it out of a window to destroy it.
However, Wu manages to come back by hiding himself in the hospital's sprinkler system and the Locacaca. Mistuba tries to eat one of the fruit to save her child, only to be possessed once more by Wu. Fighting Yashuo inside her body, Wu eventually is forced out of Mistuba through Paisley Park, and Josuke Higashikata finishes off the doctor by sealing his fragments inside Soft and Wet's bubbles mixed with medical cement to make him drown. Despite the possession, however, Mitsuba's tactic to save her child works, saving them at the cost of her nose.
Appearance
Average in size and stature, Wu Tomoki sports a black flattop haircut with various dark blue dots lining the sides and tops and teal lipstick. For clothing, he wears a white doctor's uniform with three tags reading "DoCToR" on his coat and gold clips.
Personality
| | | |
| --- | --- | --- |
| " | When you were a child, did adults ever tell you not to expect to do things well on your first try? They would say how people fail in order to learn... no? But speaking personally... I have never experienced a failure. I have not failed. Not a single time... in my life. In school exams... the national doctor exam... my driving test to get a license... I passed them all on the first try. I've never failed when it comes to love, either. Because if I sense anything wrong with a woman, I do not approach her to begin with. | " |
| | ~ Wu Tomoki | |
Although willing to keep his ties as a member of a evil organization under wraps and still a villain, Wu Tomoki appears at first be a generally kind man who claims to have never once failed in his life, be it in education, exams for something, or even in love life, claiming to be able to sense if a woman would be bad to approach. Believing himself to be good in nature, Wu treats the Locacaca as a powerful item that has benevolent abilities, and its cures would bring forgiveness and peace in the victim no matter his treatments. That said, his willingness to hide his ties, habits of possessing others, and hostile nature still renders him a villain, to the point he basically taunts Mitsuba for her child's life being sacrificed due to it being technically legal and breaks vials around him when fighting Yashuo to threaten a controlled Mistuba with disease. Wu also has a strange habit of snacking on nori and silicon-infused water mid-coversation, although he does ask whoever he's talking to if he's able to indulge on his favorite treats.
Powers and Abilities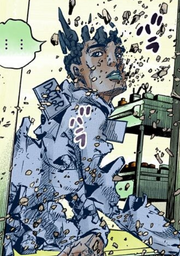 | | | |
| --- | --- | --- |
| " | Like the yellow dust that drifts on the westerly winds, my body can reduce to tiny fragments and reassemble. But that is all... That is all there is to my ability. | " |
| | ~ Wu Tomoki | |
With Doctor Wu, Wu Tomoki is able to have his body be reduced to numerous small stones and reform himself afterward, which he then often invades his foes' bodies with. Inside someone's body, Wu can cause them to have a allergic reaction or possess them to do as he desires. For the latter ability, it's possible Wu needs a nearby rock as a anchor however, in order to paralyze them for WU to take command. Wu can also add objects to his gravel to induce their effects, such as he does with sleeping pills in an attempt to disarm Mitsuba and Yasuho.
Gallery
Trivia
Wu Tomoki and his Stand are named after the song "Doctor Wu" by Steely Dan.
Wu Tomoki is one of the few characters in JoJo's Bizarre's Adventure to have the same name as their Stand, with the other characters that do this being Foo Fighters and Weather Report.