✓
This Villain was proposed and approved by Villains Wiki's Pure Evil Proposals Thread. Any act of removing this villain from the category without a Removal Proposal shall be considered vandalism (or a futile "heroic" attempt of redemption) and the user will have high chances of being terminated blocked. You cannot make said Removal Proposal without permission from an admin first.
Additional Notice: This template is meant for admin maintenance only. Users who misuse the template will be blocked for a week minimum.

| | | |
| --- | --- | --- |
| " | In the very beginning, it was a program that I designed to counter a military project, based on a multi-agent system. | " |
| | ~ XANA himself while posing as Franz Hopper. | |
| | | |
| --- | --- | --- |
| " | A super dangerous program, like a virus, which can control electricity, and activates Towers on Lyoko in order to gain access to your world. | " |
| | ~ Aelita | |
XANA is the main antagonist of Code Lyoko. It is a sentient and dangerous computer virus that can control electricity. It infects the Supercomputer that holds Lyoko, and seeks to rule the world and eliminate the obstacles that stand in its way, the Lyoko Warriors.
It was voiced by David Gasman.
Personality
XANA is a dangerous computer virus with a mind of its own. It wants nothing less than power and control of the world. It acts demonic, ruthless, sadistic, and egomaniacal, but also manipulative and deceitful. Other qualities include respecting enemies and occasional cruel humor. Also, XANA only understands machine logic, has an incomplete grasp of humanity, and values its goals and survival above all else.
At first, XANA only launches random attacks on its mortal enemies, but later becomes stronger and smarter, enough to conceive more ambitious plans to escape into the world network to obtain the power for world domination. It also seizes any chance to take out an enemy or gain advantages.
Powers and Abilities
XANA is a sentient computer virus that infected the Supercomputer and Lyoko. It activates Towers to act in the real world, deactivating them being the only way to stop its actions. In the real world, XANA generates parts of its multi-agent system as powerful virus entities in networks while staying safe inside the Supercomputer. They can also emerge from outlets at will as spectres, ghostly forms that are immune to harm and interact with objects.
On Earth, XANA can wield many unnatural abilities to attack on Earth, like controlling electrical energies to project lightning, cause short circuits, shatter objects, alter gravity, and hypnotize people, and possess any objects and living things like a virus (machines, inanimate objects, dangerous substances, ground or weather, plants, animals, etc.) to manipulate at will and modify at the atomic level. It eventually learns to possess humans to do its bidding and pixelize vessels to make them spectral and empowered beings. Only Lyoko Warriors cannot be controlled. They return to normal when their Towers deactivate and people do not remember what happened.
With Towers, XANA also creates polymorphic spectres, which are empowered ghosts that take the forms of real people. It can also materialize or teleport Lyoko minions to Earth through Scanners or Replikas, control technology it has built, or show psychic visions to those linked to the Supercomputer.
Monsters & Programs
On Lyoko, XANA took over the systems and uses them to program monsters to fight and attack targets, like Kankrelats, Bloks, Hornets, Krabs, Megatanks, Tarantulas, Creepers, Mantas, Kongres, Sharks, and the Kalamar. It also created the Scyphozoa to steal memory, drain energy, or brainwash warriors.
It can also use programs to alter sectors, create virtual prisons, use bugs and viruses, and manipulate incomplete warriors or even retrieve deleted ones to bind to itself. It can also program equipment and vehicles for its own warriors.
Replikas
With newfound access to the world network using the Keys to Lyoko, XANA infects other supercomputers to exist separately from Lyoko and spread its influence. It also creates Replikas, smaller virtual worlds, inside them to use their power to take over research facilities on Earth, using machinery or possessed scientists to build advanced technology, such as force field generators, control chips, and to create an army of robots to take over the world.
Also, XANA can take extra power from its Replikas to increase power and create the ultimate monster, the "Kolossus," a fiery titan that can instantly defeat enemies and is invulnerable to attack, aside from the eye symbols on its head and arm.
Physical Incarnations
XANA is a computer virus in the Supercomputer that keeps an unseen presence in its systems. It has no actual physical form, other than the spectres that it generates into the real world to perform actions using a simple part of its multi-agent system, while its core self remains anchored to the Supercomputer.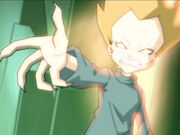 In the episode "Ghost Channel", XANA appears for the first time inside a virtual simulation of the real world as XANA knows it. This manefiestation is theorized to be XANA's true self, since it acts with more anger and sadism than any of its programs and considering its behavior when it broke down trying to compute a logical fallacy. The manifestation is a demonic caricature of Jeremy that acts as the controller of its simulated world, and it was destroyed when Aelita dispersed the bubble with her powers.
The second direct appearance of XANA was at the end of "The Key", where an enormous mass of a spectre was seen spiraling into the sky from the factory as the program escaped Lyoko. This is only form of XANA to be confirmed in-universe as its true form, since it was seen leaving the Supercomputer as a collective force rather than as a weaker part of itself.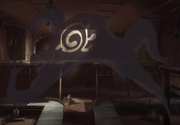 The third and final incarnation of XANA was the spectre that appeared in "Fight to the Finish". The spectre itself had the unique ability to possess William in the real world, despite him being scanned by the supercomputer. The other unique feature is the misshapen Eye of XANA that appears on its torso, of which no other spectre has had. This spectre is assumed to be XANA's real-world form since it expressed pain that went in tandem with XANA's ultimate destruction.
Community content is available under
CC-BY-SA
unless otherwise noted.