Jurassic World: Dominion Dominates Fandom Wikis - The Loop
Play Sound

✓
This Villain was proposed and approved by Villains Wiki's Pure Evil Proposals Thread. Any act of removing this villain from the category without a Removal Proposal shall be considered vandalism (or a futile "heroic" attempt of redemption) and the user will have high chances of being terminated blocked. You cannot make said Removal Proposal without permission from an admin first.
Additional Notice: This template is meant for admin maintenance only. Users who misuse the template will be blocked for a week minimum.

| | | |
| --- | --- | --- |
| " | In the very beginning, it was a program that I designed to counter a military project, based on a multi-agent system. | " |
| | ~ XANA himself while posing as Franz Hopper. | |
| | | |
| --- | --- | --- |
| " | A super dangerous program, like a virus, which can control electricity, and activates Towers on Lyoko in order to gain access to your world. | " |
| | ~ Aelita | |
XANA is the main antagonist of the 2003-2007 French cartoon series, Code Lyoko.
It is a sentient and dangerous computer virus that infected the Supercomputer that holds Lyoko. It craves destruction and displays no mercy to those who stand in its way, the Lyoko Warriors.
When possessing Jeremy in the episode "Canal fantôme" ("Ghost Channel" in English) it was voiced by Raphaëlle Lubansu and by David Gasman in the English dub.
Personality
XANA shows the simple mindset of a hostile force among its vessels, seeking only to infect, destroy, and wipe out its obstacles. Its computing intellect can calculate attacks and even understand human feelings. It is also cunning, often hiding its intentions until the last moment. But, it can only know theories and logical patterns, making it predictable.
Despite its chaotic and destructive nature, XANA is also logical. It would put survival and greater goals above everything else, even team up with enemies against a bigger threat, and would not risk destroying the keys to its plans.
Powers and Abilities
XANA is a sentient program and multi-agent system that acts like a virus. It has infected the Supercomputer and Lyoko, exploiting its capabilities. XANA was formerly bound to the machine, until it stole the Keys to Lyoko from Aelita, allowing it to escape and take over other supercomputers, creating Replikas inside them to expand its influence. Its capabilities are listed below.
Lyoko Towers
XANA activates virtual structures in Lyoko, called Towers, to act in the real world. It can only be stopped by deactivating the Towers in the virtual world. With them, XANA can access networks or manifest spectres from its multi-agent system, ghostly forms that can interact with the real world. Its powers are listed below:
It can manipulate electromagnetic phenomena and possess any targets like a virus to bend to its will (machines, natural elements, chemicals, weather, insects, animals, etc.) to attack or cause disasters in the real world. After evolving further, XANA can take over humans or manifest polymorphic spectres as pixelized agents with spectral and electrical powers that do its bidding. Only Lyoko Warriors cannot be controlled. They return to normal or disappear when their Towers deactivate, and people do not remember what happened.
XANA can also materialize or teleport Lyoko minions to Earth through Scanners or Replikas, control devices it has built, or show psychic visions through a special link.
Monsters & Programs
On Lyoko, XANA virtualizes deadly monsters of many types to fight enemies and attack targets, and the Scyphozoa to steal memory or possess warriors on Lyoko. It also has programming abilities that let it manipulate environments, plant bugs or viruses, launch programs from monsters, modify incomplete warriors, and create virtual prisons, illusions, equipment and vehicles, etc.
Using its Replika network, XANA is capable of sending the massive Kolossus, its largest and most powerful monster, which is the ultimate weapon to use on any virtual world.
Physical Incarnations
XANA is a computer virus in the Supercomputer that keeps an unseen presence in its systems. It has no actual physical form, other than the spectres that it generates into the real world to perform actions using a simple part of its multi-agent system, while its core self remains anchored to the Supercomputer.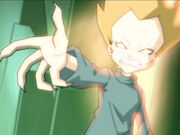 In the episode "Ghost Channel", XANA appears for the first time inside a virtual simulation of the real world as XANA knows it. This manifestation is theorized to be XANA's true self, since it acts with more anger and sadism than any of its programs and considering its behavior when it broke down trying to compute a logical fallacy. The manifestation is a demonic caricature of Jeremy that acts as the controller of its simulated world, and it was destroyed when Aelita dispersed the bubble with her powers.
XANA later manifested through a Polymorphic Spectre resembling Franz Hopper in the episode "Franz Hopper". Unlike most spectres, this imposter was capable of articulate speech and used deception rather than brute force, implying XANA was in direct control of it. However, the disguise wasn't flawless, as he showed distain towards Jeremie for letting "XANA destroy my diary"; in truth, XANA had tried to destroy it, but failed due to the intervention of the real Franz Hopper.
The second direct appearance of XANA was at the end of "The Key", where an enormous mass of a spectre was seen spiraling into the sky from the factory as the program escaped Lyoko. This is only form of XANA to be confirmed in-universe as its true form, since it was seen leaving the Supercomputer as a collective force rather than a weaker part of itself.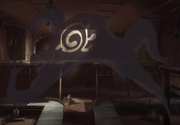 The third and final incarnation of XANA was the spectre that appeared in "Fight to the Finish". The spectre itself had the unique ability to possess William in the real world, despite him being scanned by the supercomputer. The other unique feature is the misshapen Eye of XANA that appears on its torso, of which no other spectre has had. This spectre is assumed to be XANA's real-world form since it expressed pain that went in tandem with XANA's ultimate destruction.
External Links
XANA on the Pure Evil wiki