Doctor Strange in The Multiverse o Madness - The Loop
Play Sound
This article's content is marked as Mature
The page Mature contains mature content that may include coarse language, sexual references, and/or graphic violent images which may be disturbing to some. Mature pages are recommended for those who are 18 years of age and older.


If you are 18 years or older or are comfortable with graphic material, you are free to view this page. Otherwise, you should close this page and view another page.
| | | |
| --- | --- | --- |
| " | We'd better get back, 'cause it'll be dark soon, and they mostly come at night... mostly. | " |
| | ~ Newt, referring to the Xenomorph Warriors from Aliens. | |
The Xenomorph Warrior is the main assault faction in the Xenomorph hive. They are slightly larger and stronger than the Drones, and while share the same skills with latter, they are more capable in combat.
They serve as the primary antagonists of Aliens and the secondary antagonists of Aliens vs. Predator: Requiem.
Information
Biology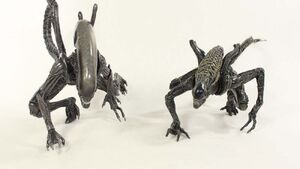 One of the Warrior's main characteristics that differ it from the Drone is their ridged head, whereas the Drone has a smooth head. The Warrior is much larger than the Predator, standing 14–16 feet tall. They are black in color, and can blend into dark areas such as their hive. They are incredibly strong, and their ridged head is strong enough to knock opponents away.
The Warrior is dangerous even in death. If they are hit with a strong physical trauma weapon, they will explode and drench the area with acidic blood. If someone comes into contact with the blood, they will get burned, often fatally. Their tail ends with a large blade, and they can bludgeon and gore threats to their death. They use their claws to climb walls.
Even so, like majority of Xenomorphs, they are susceptible with fire, as should they incinerated to death, their body will immediately burnt into charred mass. The best way to deal with them is by using conventional weapons with firepower equivalent to that of M41A Pulse Rifle at minimum (as they can shrug off handguns) and flame-based weapons, and keep one's distance from the Warrior as close-quarter combat is ill-advised.
Intelligence
The Xenomorph Warrior is shown to be rather intelligent. They have cut power in enemy bases, and can set up traps for enemies. They have also been shown to be aware of their acid blood and can swim in the water like a crocodile, with their arms to their sides swimming by moving their head and body. Unlike their enemies, the Predators, they are not immune to bullets.
Methods
The Warriors will usually attack in droves. This makes them very dangerous, especially in the dark since they can blend in and attack from all sides. Even if their opponents are armed, the Warriors are deadly. They also serve to protect the Xenomorph Queen, although the Praetorian will also guard them. While capable to ambush their enemies like the Drone, Warriors are more than willing to expose themselves to enemy threats to psychologically demoralizing their enemies and if possible, expose them with their drenched acidic blood once close enough, a suicidal tactic which admittedly double-edged considering the price of the victory over enemy forces.
Drone and Warrior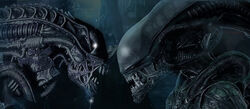 It has long been theorized that translucent, smooth-headed Drones and ridge-headed Warriors are in fact the same caste of Xenomorph, and that the ridged head structure of the Warrior is simply a sign of aging or maturity in a Drone. Drones and Warriors have never appeared in the same film throughout the Alien franchise; currently, Drones have only been depicted in Alien, Alien vs. Predator and Alien Resurrection (the other films of the franchise feature other Xenomorph variations, such as the Runner in Alien 3 or the Cloned Xenomorphs in Alien Resurrection), while Warriors appear in Aliens and Aliens vs. Predator: Requiem. However, several video games have portrayed the two castes working alongside one another. The aging theory is backed up by the fact the Xenomorphs featured in Aliens have been alive for considerably longer than those seen in either Alien or Alien vs. Predator (however, it does not explain the presence of Warriors in Aliens vs. Predator: Requiem, despite those creatures being only recently born).
In the cast and crew commentary for Aliens, James Cameron confirms the aging concept, stating that the Warrior Xenomorphs in his film are indeed intended to be matured Drones. The change in design was originally implemented because Cameron was concerned that the smooth head piece of the original film's design would crack or otherwise be damaged during the increased stunt work required of the Xenomorph suits in Aliens. As a result, he simply removed the smooth cover from the heads, exposing the ridges beneath.
In Alien vs. Predator: Extinction, Xenomorph Warriors are gestated via. use of human host whereas Xenomorph Drones with Oswocs instead.
Gallery
Villains