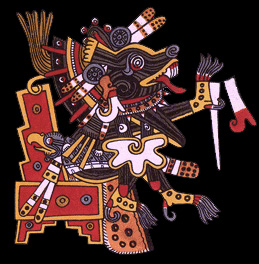 Xolotl is a malevolent deity native to Aztec mythology and has multiple spheres of influence, most notably he is seen as the god of lightning, death, sunset, monsters, sickness and deformities.
He was also said to rule over twins and dogs, as such he often manifested as a monstrous dog and would use dogs as a means to gather souls to the underworld: also, despite his malevolent nature, he was responsible for guarding the sun against the powers of the underworld (thus was a necessary evil in Aztec cosmology).
He was also seen as the dark personification of Venus and was associated with heavenly fire - he was the dark counterpart of Quetzalcoatl, who was a more benevolent version of Xolotl (though all Aztec deities were somewhat malicious by modern standards, due to the fact each deity was capable of both great good and great evil, the religion being very dualistic in nature).
This also makes Xolotl one of many deities that contributed to the idea of an "Anti-God", since he stood as a malevolent counter to the creator deity (Quetzalcoatl is often quoted as the creator of mankind).
Attributes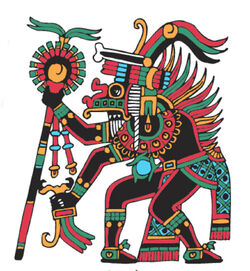 Xolotl is a nigh-omnipotent entity, being an ancient deity, his sphere of influence being such things as monsters, disease, deformities, the underworld and darkness - as the twin of Quetzalcoatl he is a dark mirror of creation itself.
He is also, despite his evil nature, the guardian of the sun and thus has all the conventinal powers of a solar deity - in addition to those listed above.
Community content is available under
CC-BY-SA
unless otherwise noted.