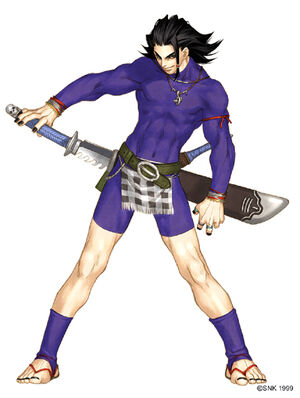 Yaci Izanagi is one of the minor villains in the Samurai Shodown series.
History
Yaci is one of the most powerful warriors on the streets of the Ritenkyo in prison. He and his criminal friend Haito Kanakura make a living as a freelancer bodyguard.
His life changed when he met a popular (male) geisha Namino. Hoping to have a better future together, Yaci promised to stop his criminal life and flee with Ritenkyo with him. He began to oppose his gang and kill his members. Knowing that one of them might kill Namino, he began to save his lover.
However, Yaci overthrows the Razor Trio in the ending and reunited with his beloved. One of his comrades painfully pressed Namino to "change" his boss and threw a sword at them. Namino was hit and the angry Yaci killed the attackers. He desperately insisted on his promise to bring the injured Namino to a ship on the coast of Ritenkyo. To his dismay, Namino died shortly after they set sail.
Community content is available under
CC-BY-SA
unless otherwise noted.