Click To Help DIO!

DIO has declared that this article has stopped in time, and any and all information on it may be outdated.
Help improve this article by checking and updating it's info wherever necessary
And now time resumes!

✓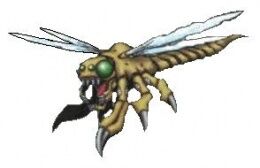 Yanmamon is a minor villain in Digimon Data Squad.
Appearance
Yanmamon is a Champion Level Digimon that looks like a green Dragonfly with claws and teeth.
Digimon Data Squad
Yanmamon carries Gotsumon around the Digital World. It first appears carrying Gotsumon as he watched the battle between the members of DATS between Keenan and his Digimon partner; Falcomon. It also made several appearances later on, even when Gotsumon's attacked the Real World, and when Gotsumon Digivolved in Meteormon to fight DATS. It is unknown what happened to it after Meteormon's death.
Attacks