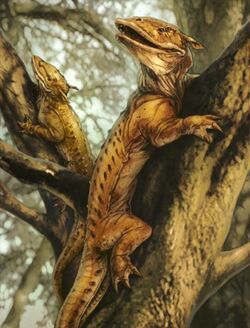 | | | |
| --- | --- | --- |
| " | I hate that thing. | " |
| | ~ Jaina Solo, on the Ysalamiri species. | |
Ysalamiri are Force-resistant creatures in the Star Wars universe. While not overtly antagonistic, the ysalamiri are used by several villains throughout the saga. Due to their natural ability to deflect the Force (an instinct which evolved as a defense against their natural predators, the Force-sensitive vornskrs), they are the perfect defense for anyone choosing to oppose the Jedi Order. The Sith are among the few villains who despise the ysalamiri.
As Force-sensitives, they loath anything that robs them of their power. The ysalamiri are typically reserved for mundane foes.
Among the villains who have exploited the ysalamiri's usefulness are Thrawn, Gilad Pellaeon, Talon Karrde, and the Yuuzhan Vong.
Ysalamiri for Force Users
However, these are not the only purposes of the ysalamiri. Often, Force wielders use ysalamiri in order to hide their presence from Force-sensitive adversaries. In the novels New Rebellion and Legacy of the Force: Fury, the ysalamiri became the undoing of certain villains. In the former, they led to the death of Dark Jedi Kueller, after Han Solo and Mara Jade recovered them in order to give Luke Skywalker an advantage over his fallen Padawan. In the latter, the Solo family used the ysalamiri to undermine Darth Caedus's, for the Sith Lord could not sense his sister Jaina Solo while she was near the ysalamiri. However, most Jedi and Sith find the ysalamiri distasteful, Mara and Jaina among them. Grand Admiral Thrawn used the ysalamiri both as a way to oppose the Jedi and in order to control the Dark Jedi Joruus C'Baoth.
Community content is available under
CC-BY-SA
unless otherwise noted.