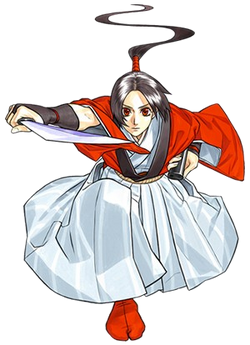 Yumeji Kurokouchi is one of the minor villains from Samurai Shodown series.
History
Yumeji is the daughter of Sakon Kurokouchi, the feeling of iaijutsu and the former mentor of Ukyo Tachibana.
However, due to suspicious causes of physical problems, they were expelled from the family dojo and living facilities. When Yumeji followed Gaoh and vowed to treat him as his "right arm."
Finally, Yumeji was defeated by Ukyo and asked to die to avoid shame. However, Ukyo only cuts off part of their ponytail and ordered them to go home. Yumeji is not a nun. One year after Gaoh was defeated, Yumeji deceived and beheaded Rasetsumaru. Their father and other disciples were later killed by Zankuro Minazuki.
Trivia
Yumeji was apparently kicked out of the dojo due to some sort of ambiguous illness — though it's heavily implied that the "illness" was simply being either trans or female.
Community content is available under
CC-BY-SA
unless otherwise noted.