Doctor Strange in The Multiverse o Madness - The Loop
Play Sound
This article's content is marked as Mature
The page Mature contains mature content that may include coarse language, sexual references, and/or graphic violent images which may be disturbing to some. Mature pages are recommended for those who are 18 years of age and older.


If you are 18 years or older or are comfortable with graphic material, you are free to view this page. Otherwise, you should close this page and view another page.
| | | |
| --- | --- | --- |
| " | I am... just so gloriously handsome! Check out this face of mine. It wouldn't be a stretch to say I compare with the chiseled features of Michelangelo's David. That's how beautiful I am. | " |
| | ~ Yuya Fungami | |
Yuya Fungami is a minor character and antagonist later turned ally in JoJo's Bizarre Adventure: Diamond is Unbreakable. Yuya Fungami is a Stand User who wields the Stand known as Highway Star.
He was voiced by Kisho Taniyama in Japanese and Philip Reich (who would later voice Giorno Giovanna) in English.
Biography
As a motorcycle racer, Yuya got drunk and crashed his bike, landing him with severe injuries. Upon being taken to the hospital, he was shot with the Bow and Arrow by Yoshihiro Kira and given the Highway Star Stand.
He first sets up an illusionary house in a highway tunnel with Highway Star and lures Rohan Kishibe inside. Highway Star then springs out of the "wardrobe" chasing Rohan out of the tunnel and begins to suck his fluids dry. Josuke is then lured into the "room" finding Rohan nearing the point of becoming a withered husk. Highway Star then attempts to use the manga artist as bait, but Rohan blasts Josuke out of the tunnel ordering him to seek out Yuuya.
Highway Star then begins an intense battle against Josuke around the city. While Josuke calls up Koichi, Highway Star ambushes the Crazy Diamond user. Josuke is nearly stopped by traffic lights that are red, but propels himself and bike over a stroller just in time. Desperate, the school boy steals a cell phone and tells Koichi to find out where Yuuya is at, Grapes Hill Hospital.
Yuya's Stand chases Josuke to the harbor but Crazy Diamond breaks some concrete for a shield. Highway Star continues to chase Josuke through a drainage pipe but is trapped on a parked car, only briefly.
When Josuke reaches the hospital, Yuuya is reported to be resting in room 525. Just as Josuke closes in, Highway Star begins to suck him dry. Yuya gloats his triumph being healed of his injuries and has a keen sense of smell. When he asks his three female nruses who is angry, Josuke answers, having drank some IV full of vitamins. With this, Crazy Diamond breaks Yuua's leg who tells its unwise to hit an injured man. After Crazy Diamond heals him, the Stand rapidly punches multiple times and he lands into the hospital's fountain as Josuke declares it a fair fight. Yuuya is left to be hospitalized while Josuke heals Rohan.
Much later, Josuke enlists Yuya's help in saving Koichi from Terunosuke Miyamoto and at the end of the Yoshikage Kira crisis, bids Reimi farewell.
Powers and Abilities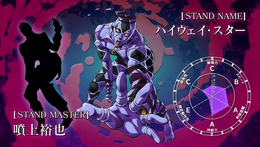 | | | |
| --- | --- | --- |
| " | Highway Star may not be strong, but its pursuit is relentless. | " |
| | ~ Yuuya Fungami | |
Yuya's Stand, Highway Star, can move at high speeds, chasing down its victims by their smell. It can separate its body to chase down its victims from anywhere. The Stand's main ability is to steal life energy to heal up Yuya all the way for the victim to the point where they become husks.
To start its hunt, Highway Star makes an faux room with only a handful of furniture. When the victim steps inside, Highway Star will acquire the scent.