Jurassic World: Dominion Dominates Fandom Wikis - The Loop
Play Sound
| | | |
| --- | --- | --- |
| " | It happened around 800 years ago. The Pokémon known as Yveltal spread its ominous wings, engulfing the lands of Kalos in darkness. At that moment, people and Pokémon throughout the land began to fall one by one. Yveltal let out a piercing cry and took to the sky, vanishing to an unknown location. | " |
| | ~ The ancient myth on Yveltal. | |
Yveltal, also known as the Destruction Pokémon, is a hostile, one-of-a-kind, giant Pokémon from the homonym franchise, introduced as the emblematic Pokémon of the 3DS video game Pokémon Y. It is also the main antagonist of the movie Diancie and the Cocoon of Destruction. Yveltal is part of the Aura Trio, and like the others represents a fundamental aspect of the cosmos; death. It is the direct counterpart to Xerneas, who represents life.
Biography
Diancie and the Cocoon of Destruction
Hundreds of years prior to the movie's events, Yveltal almost destroyed all life in All-Earth Forest. Xerneas saved Diancie and many other Pokémon from the destruction, and later reversed all the damage Yveltal did.
Argus and Millis Steel, Marilyn Flame, and Ninja Riot were fighting over who should catch Diancie. They took their fighting to an underground pool where Yveltal slept in its cocoon form. The fighting eventually awakened Yveltal, who used Oblivion Wing to petrify large areas of the forest, as well as Team Rocket, Marilyn, Riot, and the Steels, who tried to stop it with missiles from their ship. Ash and Pikachu tried to battle Yveltal as well, but almost fell off a cliff. Diancie then Mega Evolved and created a large diamond, which she used to protect Ash, Serena, Clemont and Bonnie from another Oblivion Wing.
Eventually, Xerneas reappeared. Just the sight of it halted Yveltal's rampage, and it flew away. Xerneas restored the All-Earth Forest from Yveltal's destruction like it did centuries ago.
Pokémon Super Mystery Dungeon
Yveltal is the secondary antagonist in this spin-off game of Pokémon, being a thrall of the Dark Matter.
At the beginning of the game, every Pokémon is scared about some of them mysteriously petrify, with basically no reason found by everyone. However, when Nuzleaf betrays both the protagonist and his partner (A female partner), Yveltal reveals their true intentions to the entire world, darkening the planet.
Only the interference of the Legendary Beasts sacrificing themselves looking for an exit for the protagonist in the Voidlands was the key to defeat Yveltal, especially when another things like the power of the Tree Life, giving them the final evolution stage from both characters, made a great victory on the final fight versus that and later the Dark Matter. Although in that last fight, Yveltal was "purified" by the female partner of the protagonist because the dark influence of the Dark Matter, failing to protect their main old enemies from it.
After the Dark Matter is completely purified, Yveltal can then be recruited in the Buried Ruins.
Pokémon Adventures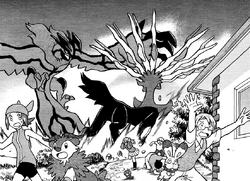 Yveltal debuted in the X & Y chapter alongside Xerneas. The two faced each other in a battle, which caused chaos and destruction in Vaniville Town. The two eventually stopped fighting and returned to their dormant cocoon and tree states, which are being sought after by Team Flare to power their ultimate weapon.
Malva, a deputy of Team Flare, eventually assumed control of Yveltal, after defeating Diantha, who along with Korrina and Gurkinn had been seeking it to oppose Team Flare after believing that Team Flare were only after Xerneas.
Other Media
Super Smash Bros.
Yveltal appears in Super Smash Bros. for 3DS as a trophy, and as a background character on the Prism Tower stage, occasionally appearing in the sky as the platform flies around the tower.
In Super Smash Bros. Ultimate, Yveltal appears again on the Prism Tower stage, and as an ace grab-type primary spirit. Its spirit battle is against a giant Charizard at the Kalos Pokémon League with boosted fire and explosive attacks.
Appearance
Yveltal is a giant red-and-black avian, with most of its body dominated by red and its wings and tail by blacks. It has five appendages, in which the odd three ones are prominent and end in five claws; the ones at the extreme ends are used as wings to keep this Pokémon airborne and the middle one reminiscent of a tail. The other two even ends resemble talons and are remarkably shorter. The Pokémon has blue eyes, a grayish ruff circling its neck and black horns that extend all the way from its snout, with the trident-like patterns adorning it also found there. As told by Professor Sycamore, this Pokémon is better distinguished as a giant letter "Y".
Personality
Yveltal is a Pokémon that absorbs the life energy of living creatures, acting as a counterpart to Xerneas. Yveltal is also capable of committing one of the most harmful acts ever committed by a Pokémon that has ever been seen in the franchise: when Yveltal is nearing the end of a life cycle, it will absorb the energy of every proximate life form and use it as fuel; that way, this creature can continue living for another thousand years even if it has to revert back to a cocoon. This Pokémon is said to lie dormant in an unknown place during the game's events.
Yveltal has the power to absorb life energy. When it reaches the end of its lifespan, it expands its wings and steals all of the life energy of every living thing around it before transforming into a cocoon to sleep for one thousand years. Yveltal is the only known Pokémon capable of learning the move Oblivion Wing.
Trivia
Yveltal is the 717th Pokémon in the National Pokédex.
Yveltal's design and concept are based on the mythical Hræsvelgr.
Yveltal has the highest HP base stat of all Dark-type Pokémon. It is also tied with Lugia, Ho-Oh, and Rayquaza for the highest base stat total of all Flying types.
Yveltal is the first Dark-type Version mascot.
Yveltal has the same stat distribution as Xerneas, with a base stat total of 680.
Yveltal and Xerneas are exact opposites: Yveltal represents death, chaos, destruction, and darkness, while Xerneas represents life, peace, creation, and light.

In a way Yveltal and Xerneas are like Yin and Yang. This would mean Yveltal's Destructive powers are vital to maintain a balance.

Yveltal is the first Dark-type Legendary Pokémon, followed by Moltres' Galarian Form and Urshifu's Single Strike Style form.
Yveltal appears in the Pokémon Super Mystery Dungeon spin-off game. But unlike Darkrai, Yveltal is the main antagonist which is revealed firstly, and not the final boss unlike Darkrai. Furthermore, Yveltal is the second villain to be a Flying-type Legendary after Rayquaza.
Yveltal, along with Xerneas, was designed by art designers Ken Sugimori and Yusuke Ohmura. Initial design for the two Legendary Pokémon was started by Sugimori, but he encountered 'artist's block', having a hard time coming up with concepts. For the first time, he gave the work over to another designer, Ohmura. Ohmura furthered the designs, after which Sugimori resumed to finish them.
External links
Yveltal on Bulbapedia

Villains
Subspace Army
Ancient Minister | Bowser | Bullet Bills | Duon | False Bowser | False Diddy Kong | False Peach | False Samus | False Zelda | Galleom | Ganondorf | Goombas | Hammer Bros. | King Statue | Koopa Troopas | Master Hand | Petey Piranha | Primids | Rayquaza | Ridley | Porky Minch | Shadow Bugs | Tabuu | Wario
World of Light
Crazy Hand | Dharkon | Dracula | Galeem | Galleom | Ganon | Giga Bowser | Master Hand | Marx
Playable Characters
Bowser | Bowser Jr. | Dark Pit | Dark Samus | Donkey Kong | Enderman | Ganondorf | Incineroar | Kazuya Mishima | King Dedede | King K. Rool | Koopalings (Larry, Roy, Wendy, Iggy, Morton, Lemmy, Ludwig) | Mario | Meta Knight | Mewtwo | Piranha Plant | Ridley | ROB | Sephiroth | Wario | Wolf O'Donnell | Zombie
Bosses
Crazy Hand | Dark Emperor | Dharkon | Dracula | Duon | Galeem | Galleom | Ganon | Giga Bowser | Marx | Master Hand | Master Core | Metal Face | Petey Piranha | Porky Minch | Rayquaza | Ridley | Tabuu | Yellow Devil
Assists Trophies/Poké Ball Pokémon
Andross | Arceus | Black Knight | Burrowing Snagret | Chain Chomps | Chef Kawasaki | Darkrai | Deoxys | Devil | Dr. Wily | Entei | Elec Man | Ghirahim | Giratina | Ghosts | Gray Fox | Hammer Bros. | Klaptrap | Knuckle Joes | Kyurem | Lakitu | Lord Nightmare | Metroid | Meowth | Mimikyu | Mother Brain | Palkia | Phosphora | Shadow the Hedgehog | Skull Kid | Spinies | Starman | Unown | Waluigi
Trophies/Spirits/Stickers
Acro | Affinity | Air Man | Akuma | Alraune | Albert Wesker | Amalthus | Andrew Oikonny | Antasma | Aparoids | Aparoid Queen | Arlon | Ashnard | Axel | Baba | Baby Bowser | Babylon Rogues (Jet the Hawk, Wave the Swallow, Storm the Albatross) | Balrog | Banzai Bills | Bass | Big Boss | Bio Rex | Birdo | Black Shadow | Blood Falcon | Bokoblins | Blippers | Bloopers | Bombers | Bomb Man | Bonkers | Boos | Boom Boom | Boom Stompers | Box Boxer | Boxy | Broom Hatters | Bugzzy | Bumpety Bombs | Bulborbs | Burt the Bashful | Buzzy Beetles Byrne | Cackletta | Calamity Ganon | Camus | Cappys | Captain Syrup | Carmilla | Chandelure | Chaos | Chaos Kin | Chargin' Chucks | Claus | Clubberskulls | Colonel Pluck | Condor | Cragalanche | Crash Man | Creepers | Count Bleck | Count Cannoli | Cranky Kong/Donkey Kong (arcade) | Cut Man | Daphnes | Dark Man 4 | Dark Matter | Dark Mind | Darknuts | Daroach | Deadly Six (Zavok, Master Zik, Zeena, Zomom, Zazz, Zor) | Death | Deathborn | Devil Jin | Demise | Demon King Arzodius | Diggernaut | Dimentio | Dive Man | DJ Octavio | Don Bongo | Donkey Kong Jr. | Drackys | Dragaux | Dr. Ivo "Eggman" Robotnik | Drill Man | Dry Bones | Eagle | E-123 Omega | Edelgard von Hresvelg | Eggplant Wizard | EggRobos | Emerl | E.M.M.I. | Ender Dragon | Erazor Djinn | Evil Ryu | Father Balder | Fawful | Fiery Blowhog | Fire Man | Flages | Flash Man | Fortitudo | FU | Fynalle | Gangrel | Galacta Knight | Galactic Fiend Kraken | Galaxy Man | Guardians | Garon | Gengar | General Guy | Geese Howard | Gharnef | Ghasts | Ghosts | Gleeok | Goda | Gold Bone | Golems (Kirby) | Golems (Dragon Quest) | Gomorrah | Gooper Blooper | Gordos | Goro Akechi | Gravity Man | Great Reaper | Great Sabrecats | Grief | Gruntilda | Guts Man | Hades | Hard Man | Hawke | Heihachi Mishima | Helmaroc King | Hewdraw | Hooktail | Hoopa Unbound | Hot Heads | Ice Man | Igor | Infinite | Ing | Inspired | Iori Yagami | Iridescent Glint Beetle | Iron Golems | Jade Face | Jeanne | Jin | Jin Kazama | Julius | Juri Han | Kalypso | Kamek | Kammy Koopa | Kanden | Karate Kong | Kass | King Bob-omb | King Boo | King Dice | King Dodongo | King Hippo | King Knight | King Olly | King Slimes | Kip | Kludge | Knight Man | Kracko | Kraid | Kritters | Kuma II | Kyle Merkulov | Leon Powalski | Lethiniums | Liquid Snake | Loptr | Lord Fredrik | Lurchthorns | Lyon | MB | M. Bison | Magnamalo | Magolor | Mahvas | Majora | Malladus | Malos | Master Belch | Master Kohga | Mecha Ridley | Medeus | Medusa | Megontas | Meta-Knights (Axe Knight, Javelin Knight, Mace Knight, Trident Knight, Blade Knight) | Metal Man | Metal Sonic | Metroid Prime | Mimicuties | Moblins | Mockiwis | Moley | Monoeyes | Mouser | Mr. Frosty | Mr. L | Mr. Shine and Mr. Bright | Mugly | Nabbit | Napalm Man | Natah | Necrozma | Nihilego | Nightmare | Nina Williams | Ninja Kong | Nipper Plants | Noxus | Nruffs | Nutskis | O'Chunks | Octoman | Octoroks | Olaf | Ornes | Pandora | Panther Caroso | Paper Bowser | Parasite Queen | Paz Ortega Andrade | Peckish Aristocrabs | Phantom Ganon | Pico | Pidgits Piglins | Pigma Dengar | Pigmasks | Plague Knight | Plasma Wisps | Plasm Wraith | Pom Pom | Pompy | Poppy Bros Jrs. | Princess Shroob | Quaggled Mireclops | Queen Metroid | Queen Sectonia | Quick Man | Rabbid Kong | Rabbids | Raphael the Raven | Reapers | Redd | Rhea | Revolver Ocelot | Riku | Risky Boots | Rockys | Rodin, the Infinite One | Roger the Potted Ghost | Rouge the Bat | Roxas | Rufus Shinra | Ryuichi and Ryuji | Sagat | Scarfies | Scurvy Crew | Shadow Beasts | Shadow Man | Shadow Queen | Shaft | Shake King | Sheegoth | Shield Knight | Shotzos | Shroobs | Shy Guys | Sidesteppers | Sigma | Sir Kibbles | Skeletons | Skull Man | Skuttlers | Slash Man | Slimes (Dragon Quest) | Slimes (Minecraft) | Smoky Prog | Snake Man | Snowmads | Solidus Snake | Space Pirates (Kid Icarus) | Space Pirates (Metroid) | Spark Man | Specknoses | Specter Knight | Spire | Squeakers | Starmans | Stu | Sword Man | Swooping Snitchbug | Sylux | Tacs | Tatanga | Thanatos | The Devil | The Skull | Therion | The Three Mage-Sisters (Francisca, Flamberge, Zan Partizanne) | Tiki Tak Tribe (Kalimba | Gong-Oh | Maraca Gang | Wacky Pipes | Cordian | Banjo Bottom | Xylobone) | Tiki Tong | Top Man | Trace | Travis Touchdown | Turks (Elena, Reno, Rude, Tseng) | Turret Tusk | Twinbellows | Twinrova | Ultimate Chimera | Vaati | Validar | Vega | Viridi | Viruses | Vivian | Vorash | Waddle Dees | Waddle Doos | Walhart | Walkys | Wart | Weavel | Wheelies | Whispy Woods | Whomps | Wigglers | Wind Man | Wollywog | Wood Man | Xord | X-Parasites | Yaldabaoth | Yuga | Yveltal | Zangief | Zant | Zero | Zingers | Zoda | Zurees
Others
Ansem | Billy Kane | Chang Koehan | Choi Bounge | Dr. Coyle | Dragonborn | Master Xehanort | Ryuji Yamazaki | Saïx | Solon | Spiders | Springtron | Team Rocket Grunts | Vanitas | Xemnas | Yiga Foot Soldiers