Jurassic World: Dominion Dominates Fandom Wikis - The Loop
Play Sound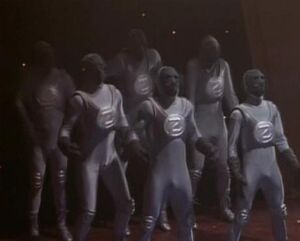 Lord Zedd's series of Putty Patrollers (referred to by fans as "Z Putty Patrollers", though never distinguished from last year's model in actual show dialogue) are a much stronger, nearly invulnerable form of basic troops.
History
When Lord Zedd arrived and took over the Moon Palace, he made changes to the previously failed putties. Using his dark magic of the Z-Staff, Zedd cast forth a new league of foot soldiers called Z-Putties. These new soldiers not only gained a new costume but also enhanced strength and speed. Zedd's new putties caught the Power Rangers off guard in their debut battle, but the Rangers quickly discovered a key weakness within the patrollers.
When hit precisely in the center of their chest where Zedd's "Z" was displayed, the new Putty Patrollers simply burst into small clay bits that blew away in the breeze. Despite their known weakness, Lord Zedd was not discouraged from further use of the clay-brained creatures.
Behavior
Like their predecessors Putty Patrollers, all Z Putty Patrollers are loyal to their master and willing to do their said master's bidding, even if it includes fighting to death. While they share many things in common with typical Putty Patrollers aside the creation process, Lord Zedd gave better improvements on Z Putty Patrollers in form of special emblem on their chest that provided them enhanced capabilities and high resistance against Mighty Morphin Rangers' technology. But the emblem also serves as weakness as had it destroyed, it will killed them.
Gallery