Wiki Targeted (Entertainment)
Play Sound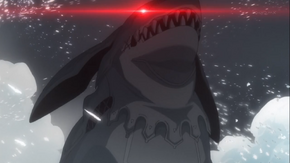 | | | |
| --- | --- | --- |
| " | COME ZADKIEL!! | " |
| | ~ Yoshino | |
Zadkiel, or Hesediel, is the archangel of freedom and the angel of God's Righteousness Grace, mercy, and the Patron Angel of all who forgive, also known as Sachiel, Zedekiel, Zadakiel, Tzadkiel and Zedekul.
Biography
Zadkiel in Date A Live is the angel that this tenure the Spirit Yoshino (Hermit), however, Zadkiel in Date A Live acts as a minor antagonist, Zadkiel is the angel responsible for posession of Yoshino, causing her to lose control of his own powers and almost killing hundreds of people in the process, Zadkiel is a huge puppet that resembles Yoshinon. Zadkiel has two forms, the first form resembles Yoshinon but is much larger, with a round red eyes and an eyepatch, big sharp teeth, and white skin, it takes the appearance of a wolf and rabbit killer snow. In this way, Zadkiel has the ability to absorb water from the soil and air and drop it in the form of an attack.
In the second form of Zadkiel seems to be its true form, this form also resembles Yoshinon but is still higher than when it becomes Yoshinon becomes Zadkiel. The second form is more than a building of many floors, and has an eye patch. This Zadkiel has the same powers as the other, but is much more powerful and dangerous.
Gallery
Trivia
Zadkiel was considered until now as the most dangerous Angel, because it was the first angel takes the form of being alive, turning into a more dangerous spirit.
Zadkiel's name is not to be confused with Zafkiel, Kurumi's Angel and its 'dark' counterpart.
Zadkiel was the first Angel at tried to kill the Spirit that it was sealed inside.
Although Zadkiel represents the Righteousness of God, he was the angel that more showed to be dangerous.