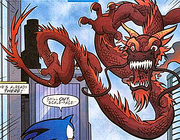 Zan was an aggressive dragon who attacked Station Square, bringing him into conflict with the heroic Sonic the Hedgehog, before meeting his demise at the hands of G.U.N. troops.
Role In Comics
Zan was a large dragon native to the planet Mobius and an abusive mate to Dulcy during her time spent near the United Federation territory, Zan hated all other species because he believed they were inferior to dragons and when Station Square sent military officials to scope out the island where he and Dulcy were living he became enraged. Zan proceeded to attack Station Square in revenge for the trespass and Sonic was called in to help G.U.N. defeat Zan in order for Station Square to take in some Overlander refugees from Robotropolis. Once the strike force landed Zan started to pick them off one at a time. Sonic (accompanied by Tails and Bunnie) went to Zan's cave and encountered Dulcy, when Zan found the three "lesser beings" in his cave he went into a rage once more and threatened to kill them but was calmed down by Dulcy, however Sonic and his friends soon fought Zan again when they saw that he was abusive towards her - however despite the fighting it was ultimately a troop of surviving G.U.N. troops that ended Zan's life: via blowing up the cave he was in.
Community content is available under
CC-BY-SA
unless otherwise noted.