Jurassic World: Dominion Dominates Fandom Wikis - The Loop
Play Sound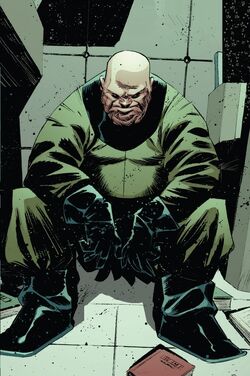 Dr. Artur Zarrko is a villain in Journey into Mystery.
History
Zarrko was brilliant evil scientist from the future, who built a time machine to escape from his peaceful 23rd century and visit more primitive periods, like USA in the 1960s, where nuclear weapons could be stolen easily. His first plan to travel to the past and steal a cobalt bomb was foiled by Thor and he lost all his memories.
He returned once again, after Loki had restored his memories, accompanied by a mining robot from the future and forced Thor to travel with him to the future, where the Thunder God would be his slave, enabling him to take over the world. Thor escaped his control, however, and Zarrko was put in prison.
Zarrko's plot was revealed to be a plan to save humanity. In his future, Thor, had separated from his human self, Jake Olson, and lost his ability to understand humanity. Because of this, Thor became more and more oppressive and imposing, and believed that ruling humanity was the only just thing to do. Zarrko knew that in his future, Thor would become a tyrant, so he had to travel back in time and stop him before the Odin Force made him invincible and near-omnipotent.
When the Governments of Earth launched a massive assault on Asgard, Zarrko tried to escape with his time machine, only to be stopped by Thialfi.
Zarrko's attempted time travel was instrumental for Thor to create for himself a new future in which he would never be the tyrant he would have been without his human self.
Zarrko later returned disguised as Boris, a manservant to Kristoff Vernard, the heir of Doctor Doom, who had become a member of the Fantastic Four following the "death" of Mister Fantastic. He was soon exposed but used his time machine to cause chaos in the building by bringing in various heroes and villains from the past and the future to fight it out. He later escaped, deciding that all he wanted was a quiet place and plenty of food.
Zarrko's next appearance showed him to be a prisoner under the custody of S.H.I.E.L.D. for almost two decades when he dropped out of nowhere and tried to steal nuclear materials from them. When the space-time continuum was broken, a new sub-division of S.H.I.E.L.D. calling themselves T.I.M.E. was established with the objective of dealing with timestream-related threats. They soon found itself with a group of time-traveler opportunists called the Chronarchists attempting to modify the history for their benefit. With the help of Zarrko, T.I.M.E. sent the Hulk in a mission through time and space in order to stop them.
Gallery
Villains
Comics
Abomination | Absorbing Man | Air-Walker | Alioth | All-Black | Amatsu-Mikaboshi | Angela | Annihilus | Apocalypse | Arcade | Ares | Arnim Zola | Asteroth | Baron Mordo | Beyonder | Bi-Beast | Blackheart | Blackout | Black Winter | Blastaar | Blockbuster | Bolivar Trask | Bor Burison | Bulldozer | Celestials | Collector | Crimson Dynamo | Crusader | Dark Avengers | Dark Gods | Darkoth | Desak | Destroyer | Diablo | Dormammu | Dr. Doom | Dracula | Dweller-In-Darkness | Ego the Living Planet | Enchanters Three | Enchantress | Executioner | Fafnir | Fenris Wolf | Fin Fang Foom | Frost Giants | Galactus | Godzilla | Goliath | Gorr the God Butcher | Grandmaster | Graviton | Grey Gargoyle | Gog | Grog | Growing Man | Hela | Hera | High Evolutionary | Hawkeye | Impossible Man | Immortus | Jormungandr | Juggernaut | Justin Hammer | Kang | Karnilla | King Cobra | Kingpin | Knorda | Knull | Korath | Korvac | Kurse | Laufey | Leader | Living Monolith | Loki Laufeyson | Lorelei | Maestro | Magneto | Mangog | Malekith the Accursed | Man-Beast | Masters of Evil | Megatak | Mephisto | Mercurio the 4-D Man | Mister Hyde | M.O.D.O.K. | Mongoose | Moonstone | Morgan le Fay | Moses Magnum | Namor | Nebula | Norman Osborn | Onslaught | Perrikus | Piledriver | Pluto | Punisher | Punisher (Earth-95126) | Purple Man | Quicksand | Quicksilver | Radioactive Man | Ragnarok | Rhino | Ringmaster | Rock Trolls | Roxxon | Sandu | Scarlet Witch | Set | Seth | Skaar | Skrulls | Space Phantom | Spider-Man | Stranger | Super-Adaptoid | Super-Skrull | Surtur | Terminus | Terrax | Thanos | Thunderball | Thunderbolt Ross | Thunderbolts | Titania | Titanium Man | Valkyrie | Venom | Worthy | Wrecker | Ulik | Ultimus | Ultron | Umar | Ymir | Zarrko
Movies
Hulk Vs. Thor: Loki Laufeyson | Hela | Enchantress | Skurge | Surtur | Malekith the Accursed | Valkyrie
Thor: Tales of Asgard: Algrim | Frost Giants | Loki Laufeyson | Fenris Wolf | Amora the Enchantress | Surtur
Thor: Loki Laufeyson | Frost Giants (Laufey, Grundroth, Hailstrum, Raze & Jotunheim Beast) | The Destroyer | Jasper Sitwell
Thor: The Dark World: Dark Elves (Malekith the Accursed & Kurse the Strong) | Loki Laufeyson | Marauders (Duhg & Kronan Marauder) | Jotunheim Beast | The Collector
Thor: Ragnarok: Berserker Army (Hela Odinsdottir, Skurge & Fenris Wolf) | Sakaaran Guards (The Grandmaster & Topaz) | Loki Laufeyson | Fire Demons (Surtur & Fire Dragon) | Thanos

TV Series
The Mighty Thor: Loki | Amora the Enchantress | Skurge the Executioner | Absorbing Man | Grey Gargoyle | Thunderbolt Ross | Zarrko | Pluto | Sandu | Surtur | Mr. Hyde
Loki: Loki Laufeyson's Variants (Loki Laufeyson (Variant L1130), Sylvie Laufeydottir, Boastful Loki & President Loki) | Time Variance Authority (He Who Remains, Miss Minutes, Ravonna Renslayer, Hunter D-90) | Alioth | Kang the Conqueror
What If: Infinity Ultron | Yellowjacket | Loki Laufeyson | The Destroyer | Brock Rumlow | Jack Rollins | Thunderbolt Ross | Skrulls | Nebula | Grandmaster | Skurge | Yondu Udonta | Ego | Arim Zola | Prince Killmonger | Strange Supreme | Surtur | Frost Giants

Video Games
Thor: God of Thunder: Loki Laufeyson | Frost Giants (Ymir) | Rock Trolls (Ulik) | Fire Demons (Surtur) | Hela
Thor: The Dark World: Loki Laufeyson | Dark Elves (Malekith the Accursed, Kurse the Strong) | Ymir | Mangog | Marauders | Frost Giants

See Also
Hercules (Marvel) Villains