Click to help Cruella!

This scum Zorba the Hutt is driving Cruella insane!
IT MUST BE REWRITTEN OR ADDED TO!!
So sayeth the great Lord of Darkness Sauron, or he will send Darth Vader to terminate you.

Help improve this article by rewriting, expanding, updating the poorly written text of the article. ✓
Jafar says: Read my lips and come to grips with the reality!


This article is a stub and is in need of expansion. You can help Villains Wiki by expanding it.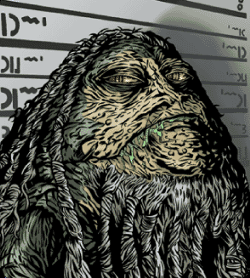 Zorba the Hutt is a character featured in the Star Wars expanded universe. He is a Hutt crime lord and is Jabba the Hutt's father. Zorba was the leader of the Desilijic kajidic on two separate occasions.
Zorba was sentenced to prison on the planet Kip. Zorba was released by Ysanne Isard and discovered that Jabba had been killed by Princess Leia Organa. Zorba put out a bounty on Leia Organa and Imperial forces clashed with Zorba's Cloud Police. Zorba however escaped and was rumored to have died soon thereafter.
Community content is available under
CC-BY-SA
unless otherwise noted.