Wiki Targeted (Entertainment)
Play Sound

✓
This villain was proposed but was rejected by the community for not being heinous enough or lacks what is necessary to be a Pure Evil villain. Therefore, this villain shall be added to our "Never Again List", where proposed villains rejected by the community shall be placed to prevent future proposals of the same evil-doer. They can be proposed again (with the permission of an administrator) if new elements appear in their series that can change their status as non-PE villains.
Any act of adding this villain to the Pure Evil category without a proposal or creating a proposal for this villain without the permission of an administrator will result in a ban.
Additional Notice: This template is meant for admin maintenance only. Users who misuse the template will be blocked for a week minimum.
| | | |
| --- | --- | --- |
| " | Ages ago I created the realm of shadows, where I have resided for centuries. Now that I have been released our worlds will converge and you will be swallowed by darkness. Farewell mortals! | " |
| | ~ Zorc Necrophades when he is released by Yami Bakura. | |
| | | |
| --- | --- | --- |
| " | Pharaoh, opposing me is futile. I am the embodiment of pure darkness, and as the world is enveloped by the shadows my power shall grow! Now kneel before your new master! | " |
| | ~ Zorc Necrophades after defeating Exodia controlled by an ally of the Pharaoh Atem. | |
Zorc Necrophades (also known as Zorc the Dark One in the anime) is the overarching antagonist of the original Yu-Gi-Oh! series and the one behind the actions of Yami Bakura.
He is the Dark God who was created by the Millennium Items. He is by far the most powerful villain in the whole Yu-Gi-Oh! franchise. He feeds on misery and cruelty and he gains strength from the darkness and suffering of humans.
He was voiced by Yoshitaka Kaidu in Japanese and Mike Pollock in English.
Biography
Original Timeline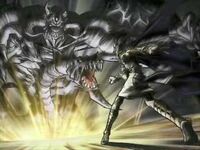 Zorc Necrophades is an evil god who, by his own claim was born from the collective darkness of human hearts and was first summoned when the high priest Akhenaden created the Millennium Items.
When Bakura, King of Thieves got his hands on the Millennium Items, he summoned Zorc in order to gain his intense power for himself. Pharaoh Atem defeated the dark god and sealed himself and a remaining piece of Zorc inside the Millennium Puzzle to stop him but Zorc narrowly stopped his own demise by sealing a portion of his soul in the Millennium Ring.
This portion of his soul merged with the soul of Thief King Bakura and became Yami Bakura, the evil spirit of the Millennium Ring. Yami Bakura set in motion his evil plans to resurrect Zorc and though he is clearly up to something starting from his first appearance, his true objectives are never revealed until the final arc.
The Dark God's Revival
After Yami Yugi retrieved the three Egyptian God Cards and presented them to the stone tablet that documented his past life, he was sent into the World of Memories to live out his previous life as Pharaoh. While contesting with Bakura, King of Thieves, he failed to notice that the high priest Akhenaden had earlier encountered Bakura, who revealed that he knew the grisly origins of the Millennium Items. After attacking Akhenaden, Bakura escapes.
Akhenaden has visions of himself as a mummified heretic, who is in league with Yami Bakura. Yami Bakura had earlier managed to place part of his soul in the Millennium Puzzle, allowing him to spy on the Pharaoh and his friends who had ventured into the World of Memories to help him fight the looming threat. Akhenaden's dark side uses his ability to turn back time to undo the Pharaoh's last attack on Bakura, allowing him to strike back and steal the Pharaoh's Millennium Puzzle. Yami Bakura stalls Yugi and his friends.
Yugi, who was beginning to wonder why Yami Bakura seemed to know more than his thief counterpart, asked Bakura who he really was. Bakura revealed that at some point, Zorc sealed part of his soul into the Millennium Ring. Yami Bakura then declares that he is Zorc Necrophades. Meanwhile Bakura, King of Thieves escapes.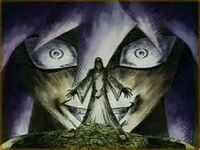 The next day, Dark Yugi and his priests had managed to track down Bakura, King of Thieves and after battling it out, they were able to fatally wound him. Yugi and the others notice that all the villagers have been frozen in time while the Pharaoh and his priests fight. They conclude that this is not really the past. It is then revealed that they are just avatars in a game world that Yami Bakura had constructed for this purpose. Dark Yugi was revealed to be Yami Bakura's opponent and while it seemed like Dark Yugi was winning, Bakura used his ability to stop time and allow Akhenaden's corruption to finally get the best of him. Akhenaden submits to the will of Zorc and steals the remaining Millennium Items, reviving Zorc in his true form.
The Final Battle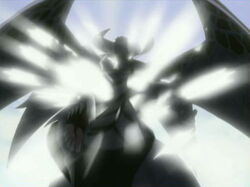 Zorc gives Akhenaden a portion of his powers. Just as he was about to wipe out the Pharaoh and his priests, the guardian spirit of the Millennium Items, Hasan, blocked Zorc's attack. The time-stall then wore off and the Pharaoh and his priests fought against Zorc and Akhenaden.
Zorc easily defeated most of the Pharaoh's men and even managed to destroy the seemingly invincible Exodia, Blue-Eyes White Dragon and the three Egyptian gods (anime only with the former two set of monsters). In the end, Zorc was destroyed when the Pharaoh learned his true name, Atem and fused all three Egyptian Gods together into the Creator God of Light, Horakthy, whose rays of light alone were enough to completely destroy him.
With Yami Bakura and Akhenaden wiped out as well, along with the eventual destruction of the Millennium Items, Zorc was cast back into the void, this time with no hope of escape.
Gallery
Trivia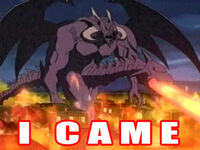 Many fans have mocked Zorc for the crotch placement of his dragon.

A popular image macro includes him with the caption "I have the weirdest boner right now" a reference to the internet meme.

Zorc Necrophades bears a strong resemblance to Chernabog.
Zorc is more properly designed in the dub with the dragon coming from his stomach in near every scene with Zorc.
The true Zorc Necrophades is technically dead by the time the series began. He's succeeded by his incarnations Yami Bakura and the High Priest of Darkness. When he appears in the Game of Memory, he's only an avatar for Yami Bakura. It's only by defeating the Pharaoh that he could be resurrected.
His threats of murdering all humans by covering Earth in Darkness aren't censored in the dub making Zorc's death threats one of the rare dub death/death threats.
Zorc's Avatar is pure evil. Ironically, Zorc isn't due to moral agency reasons.