Jurassic World: Dominion Dominates Fandom Wikis - The Loop
Play Sound
Jafar says: Read my lips and come to grips with the reality!


This article is a stub and is in need of expansion. You can help Villains Wiki by expanding it.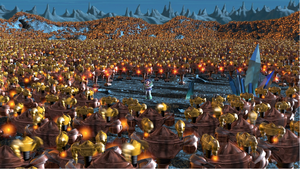 The Zurg-Bots are fictitious minor antagonists in Toy Story 2, and the secondary antagonists of the Toy Story Disney Infinity Playset. They are the robotic henchmen of Emperor Zurg.
History
Toy Story 2
During the video game opening, the bots appear when Buzz Lightyear lands on Zurg's planet. Surrounding him in all sides, the bots wield out their laser guns and weapon and tiny versions of themselves sprouting out from their shoulder armors. Thinking very fast, Buzz spots a giant crystal and shoots it with his laser, and sending hundreds of lasers through the robots. This causes a chain reaction which not only strike the robots, but also caused them to engulf in a large explosion to which Buzz nearly survives.
Disney Infinity
They also appear in the Toy Story Disney Infinity Playset. This time Buzz can destroy them with Woody and Jessie at his side.
Gallery
Images
Trivia
Zurg Bots appear as enemies in the 1999 video game Toy Story 2: Buzz Lightyear to the Rescue. They come in multiple variants.
In the video game Toy Story 2, there is a shielded Zurg Bot. It can deflect Buzz's laser. It can be damaged by Buzz's wing attack.
There is also a flying Zurg Bot.
Zurg Bots come in multiple variants in Toy Story 3: The Video Game and Disney Infinity.
The Zurg Bots are the first Toy Story villains to be killed off, followed by NOS-4-A2 and possibly Lots-o'-Huggin' Bear.
Villains
Animated Features
Sid Phillips | One-Eyed Bart | Attack Dog with Built-in-force-field | Grasshoppers (Hopper, Molt, Thumper, Axel and Loco) | Fly Brothers | Stinky Pete | Al McWhiggin | Zurg Empire (Emperor Zurg, Zurg Bots, Warp Darkmatter, Hornets, Brain Pods & Grubs) | Dr. Porkchop | Henry J. Waternoose III | Randall Boggs | Syndrome | Omnidroids | Mirage | Gilbert Huph | The Underminer | Bomb Voyage | Chick Hicks | Chef Skinner | AUTO | GO-4 | Charles F. Muntz | Alpha | Beta and Gamma | Lotso's Gang (Lots-o'-Huggin' Bear, Ken, Big Baby, Stretch, Chunk, Sparks, Twitch & Monkey) | One-Eyed Betty | Lemons (Sir Miles Axlerod, Professor Zündapp, Grem, Acer, Victor Hugo, J. Curby Gremlin, Tyler Gremlin, Don Crumlin, Ivan, Tony Trihull, Alexander Hugo, Towga Gremlin, Kai Gremlin, Tai Gremlin, Keith Gremlin, Gremlin Family, Vladimir Trunkov, Tubbs Pacer, Petey Pacer, Jerome Ramped & Pacer Family) | Mor'du | Thunderclap's Flock (Thunderclap) | Velociraptors (Bubbha) | Ernesto de la Cruz | Security Guards | Screenslaver | Robbers | Gabby Gabby | The Bensons | Curse Dragon | Pixie Dusters (Dewdrop) | Ercole Visconti | Ciccio and Guido | Alberto's Dad | Soldiers | Emperor Zurg | Zyclops
Shorts
Kabuto | Big D | Ronald Tompkins | Mr. Jones | Battlesaurs (The Cleric, Goliathon & Reptillus Maximus)
See Also
Buzz Lightyear of Star Command Villains | Cars Villains | Incredibles Villains | Monsters, Inc. Villains | Toy Story Villains